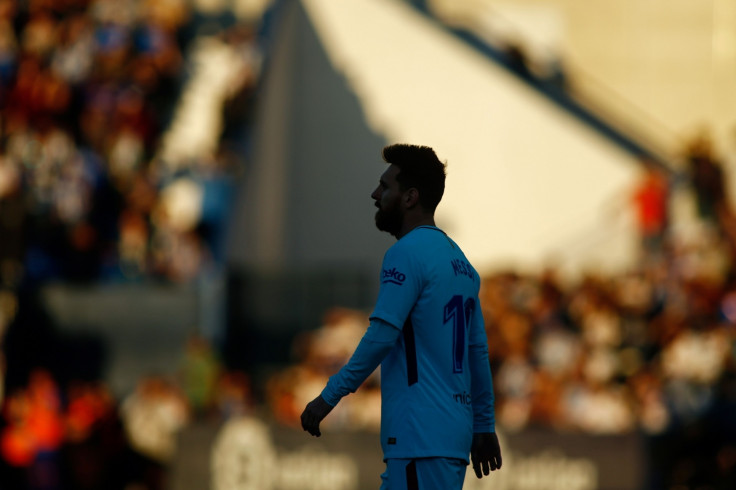 The final countdown has begun, and Barcelona's supporters are frantic with worry. Despite being 10 points ahead of Real Madrid in La Liga they are 41 days away from a crisis.
If Lionel Messi, the best player of the history of the Catalan club and their record goalscorer, does not sign a new contract before the 1 January, he will be free to negotiate with any other club in the world. This could have numerous consequences, as the 'auction effect' begins.
Messi could leave the Nou Camp after accepting the best offer from around the world, perhaps from the Premier League, Ligue 1, the Chinese Super League or even Real? The alternative is the Argentina international stays at Barca and threatens their Fifa financial fair play status.
The suspicion that the player will finally not sign a new deal is out in the open. In fact, Joan Manuel Serrat, singer and probably the most important figure in Catalan culture, wrote an article for El País last weekend. "It is a short period of time, just 45 days. And we, supporters, recall what happened with Neymar Junior weeks before he left to Paris.
"We could not have a neat and clear image of what was going on as we don't have privileged information. What is the strange reason for which Leo Messi does not take a photograph announcing a new deal with the club? Neymar's situation was also solved. It was only a matter of taking the final photo. Do you remember?" he recalled.
On 5 July, the La Liga giants announced that Messi had agreed a new deal until 2021 through a club statement. "The deal will be signed in the coming weeks, when Leo Messi returns to the team for preseason training". Four-and-a-half months later, the situation has not changed.
According to Diario Marca, the president of the Spanish League, Javier Tebas, confirmed in July that there was a deal signed "as long as I have not been lied to". He added: "Messi has a contract which has been renewed. Contracts are official when they are signed and not when it is announced that they have been signed. Messi has signed with Barcelona". However, there remains no trace of that alleged signing.
Meanwhile, Diario Sport report that Barcelona are in better position than Manchester United and Manchester City to sign Antoine Griezmann, the forward who is available for €100m. "The club has been negotiating with the player since last summer and that is why they are in better position than anyone else to sign him," the publication states. "They will begin to speak after March because the player does not want distractions before the World Cup and he will not decide his future until that moment".
With Ousman Dembelé, Luis Suárez and Messi in the team, it is hard to see how the quartet can play together, moreover when manager Ernesto Valverde prefers balance over a team full of stars.
Time will tell if this move is linked to an alleged departure of Messi. But time is not on Barcelona's side. The Argentinian knows well that if he does not sign a contract by January he will become, with a huge difference, the best paid footballer, if not the best paid athlete, in history. Given that suitors would not have to pay a release clause, his wages will become unbelievable.
It would be a sad and unexpected end for Messi to leave a club where he has won almost everything. And it would be difficult to predict how his own supporters would react if he neglects to sign a new deal. But this is modern football, and nobody expected in May what was going to happen with Neymar, particularly after Gerard Pique used his Twitter account to seemingly confirm the Brazil international was staying. However, the closer we get to January, the greater chance there is that Messi will leave the Catalan club at the end of the season.