Best of 2012 Football Review: From the Brilliance of Falcao to the Balls of Pirlo [VIDEOS]
Adrian Back reminds us of a fantastic year of sumptuous penalties, outrageous misses and sheer brilliance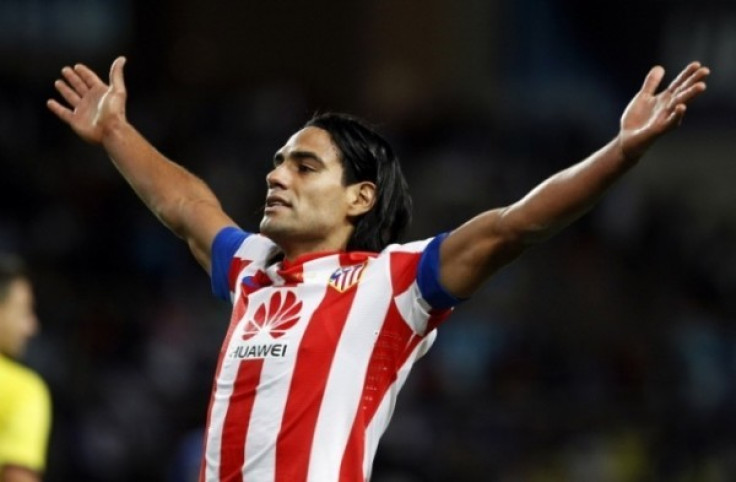 Player of the Year
This South American has averaged more than a goal a game in 2012 and is considered one of world's top players after excelling for his club side in Spain. His repertoire of goals is something to behold and, shockingly, his name is not Lionel Messi. The Barcelona forward may have broken Gerd Muller's record of goals in a year but Radamel Falcao has enjoyed an equally sensational 12 months.
El Tigre fired Atletico Madrid to the Europa League trophy last season and has already scored more than 20 goals in this campaign. A memorable hat-trick against Chelsea and five goals in a 6-0 rout over Deportivo proved that Falcao is currently the best out-and-out centre forward in world football.
Best prospect
We could have plumped for Lionel Messi's son Thiago, but rather than wait more two decades to see if he can match his dad's achievements we have gone for AC Milan youngster Hachim Mastour. The 15-year-old only played his first game for the youth side earlier this season but was so impressive that Milan are seeking special permission for him to be added to their first team squad [in Italy you have to be 16 or over to play in Serie A].
In December he scored on his debut for the Italy Under-15 side and has been likened to Zinedine Zidane and Kaka. No pressure then. The quintessential trequartista, his close control and outrageous skill make him one to look out for in 2013.
Coach of the Year
There is no doubting the impressive job done by Roberto Di Matteo as he took charge of a Chelsea side who were on the verge of getting knocked out of the Champions League, only to turn around their fortunes and deliver a first European Cup. However, it was limited success as Chelsea finished sixth in the league and the Italian was sacked after just eight months.
Jose Mourinho performed wonders by leading Madrid to the title, while Rene Girard led Montpellier to a first-ever league championship. But it is the performance of Jürgen Klopp that stands out in 2012.
The Borussia Dortmund manager won a second consecutive league title and led his side to top a Champions League group which consisted of Manchester City, Ajax and Real Madrid. A tactical genius who knows exactly how to get the very best from his players.
Goal of the Year
FIFA may have the Puskas award for this very category but then what does the governing body really know about football? Forget the slaloming run of Neymar or the sheer brilliance of Messi against Brazil; this was the year of the bicycle kick and boy did we have some contenders.
Falcao channelled the spirit of Mark Hughes with his brilliant scissor kick against América de Cali, while Zalatan Ibrahimovic stunned England with a ridiculously gymnastic effort for Sweden. But our favourite has to be this beauty from Phillipe Mexes for AC Milan against Anderlecht. A centre-back attempting a bicycle kick from the edge of the area, surely this has no chance of going in....
Worst miss
With so many leagues being broadcast around the world and through the use of illegal streams [though we would never recommend using these], it is impossible for a player's embarrassing miss not to end up on YouTube.
From Gervinho's dire effort against Bradford to former Liverpool striker Andriy Voronin's humiliating blaze over the bar from five yards, there is a plethora of entertaining clips readily available. But one effort stands head and shoulders above the rest - take a bow Napoli and Italy forward Lorenzo Insigne.
Outrageous moment
Far from a negative moment, this was an act of pure genius that sent one nation into ecstasy and another into despair. A penalty shoot-out requires nerves of steel; scoring with a 'Panenka' in a Euro 2012 quarter-final with your team trailing requires steel in a rather more specific area of a male's anatomy. Andrea Pirlo's sumptuous penalty against England was the personification of coolness as he looped the ball over a growling Joe Hart; the epitome of Italian flair.
And Finally....
We must remember the moments that make you realise that Bill Shankly was wrong when he uttered these famous words:
"Some people believe football is a matter of life and death, I am very disappointed with that attitude. I can assure you it is much, much more important than that."
Liverpool supporters in particular will remember 2012 as the year in which their campaign for 'Justice for the 96' was finally taken seriously as a new investigation into the tragedy that took place some 23 years ago was finally sanctioned. There was also some truly shocking news in Holland as a linesman was beaten to death by players in a youth game, a story that sent shockwaves throughout world football. A reminder that there really are more important things in life than the beautiful game.
Follow the links below to read the IBTimes UK picks of the year, in:-
© Copyright IBTimes 2023. All rights reserved.