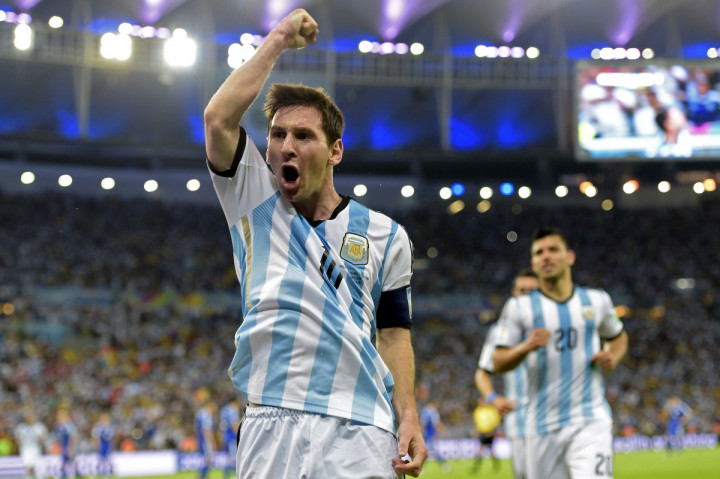 Lionel Messi's four goals and match-winning performances for Argentina at the World Cup are still not enough it seems to convince his biggest critic that he is playing to the best of his ability.
Antonio Cuccitini, the Argentina ace's grandfather on his mother's side, was speaking to Argentine TV after Messi's stunning two-goal performance against Nigeria cut his team's odds on becoming the tournament's eventual winners.
"He looks a little weak. He does not run like he used to. He is electric in Spain; he leaves all 22 players feeling dizzy. He is not running now; I am unconvinced," he told Channel 3 from Rosario, as quoted by Spanish newspaper AS.
Despite overcoming a series of injuries, which affected his performance at the end of the 2012/13 season and early on last campaign, there can be no excuses for his dip in form acccording to Cuccitini.
Messi's lack of leadership was partly blamed for Barca's elimination from the Champions League against Atletico Madrid in the quarter-final as well as their defeat in the final of the Copa del Rey against Real Madrid.
His grandfather believes his famous grandson's game will improve in the coming matches.
"He will do great. You cannot ask for any more. He is not God, who can do it all. Praise be that he got the goal against Iran and we've qualified."
Cuccitini also voiced his concern for Messi: "I see him vomiting and it scares me. I do not know what that is about. They say it is nerves, but I am not so sure. They have looked at everything and found nothing. Lionel used to run a lot. It really worries me; I cannot help it."
But like any doting grandfather he signed off with some encouraging words: "Keep your chin up, you'll do great, I love you lots."
The four-time Ballon d'Or winner currently shares the World Cup top-scorer's position with Brazilian's Neymar with four goals each in just three matches.