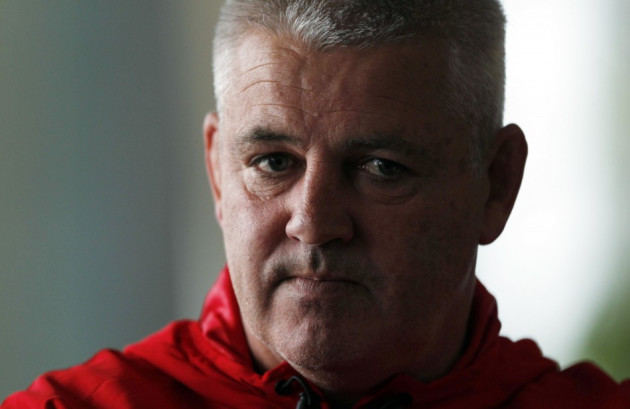 Syon Lane might have been the tranquil setting for the much-anticipated announcement of the British and Irish Lions squad to tour Australia this summer, but the reality was that the mainstay of Warren Gatland's 37-man squad was honed across two separate afternoons at Twickenham, which sandwiched a Six Nations summit meeting at the Millenium Stadium
Last November, Australia's 20-14 victory over England was not only the Wallabies' most impressive performance of their autumn tour, but also served to emphasise their defensive resilience. Nick Cummins and Will Genia also provide evidence of Australia's ability to thrill, potentially leading to a defensive-driven backs selection.
"They certainly played bloody well against us," said backs and defensive coach Andy Farrell. "I don't just think defensively, I think their all-round game of what they are capable of, we're talking about world-class attacking players."
In particular, Australia's success may have been the catalyst for wingers who breed assurance without the ball. Welsh pair George North and Alex Cuthbert, Scotland's Sean Maitland and Ireland's Tommy Bowe are just that. Rob Kearney and Stuart Hogg provide cover.
It may be that a week later at Twickenham, as England fell short of South Africa, the decision-making of Chris Robshaw, particularly late on as England passed up countless opportunities to win the game, worked to rule him out of contention to lead the tour.
A perhaps more telling contribution came over three months later in Cardiff, as much more than just the destination of the Six Nations was decided. Many of the 15 Welshmen in the 2013 Lions squad, the largest contingent to represent the Principality since 1977, booked their tour places by demolishing England at the Millennium Stadium, in what was surely Gatland's clearest single barometer ahead of this summer's expedition.
"I couldn't have asked anymore in terms of the last game in terms of players performing under pressure and to be honest it comes down to performance," said Gatland.
"For some players in some positions that game was the coin flip from one side to another from an English player to a Welsh player.
"I couldn't have asked for any more in terms of atmosphere. It was the most intense and physical game I've seen in the northern hemisphere since I've been here and I thought the atmosphere was fantastic as well."
The day that the returning Alun Wyn Jones overcame Joe Launchbury, Justin Tipuric edged Tom Wood and Alex Curthbert stormed ahead of Mike Brown was also the afternoon which cemented Sam Warburton as captain ahead of Robshaw.
If the decision to overlook Robshaw as captain is understandable, then his complete omission from the squad is less clear. A more obvious explanation can be found potentially in the flexibility of those selected; Warburton, Tipuric and Sean O'Brien can all play in at least two positions, while O'Brien offers far more with the ball in hand.
The surprise, if not shock omissions don't stop there. Rory Best, the one-time Ireland captain, sees his lineout success rate damage his hopes. Scotland's own leader Kelly Brown also misses out.
None of the Scottish trio can be disputed nor can those from Ireland's flailing Six Nations side. The only questions at the start of the day were over the fitness and physical state of Brian O'Driscoll and Paul O'Connoll; Lions fans can rejoice in both players' selection.
Mako Vunipola and Matt Stevens, two players at either end of their international careers, are surprise selections in the front row. An ever-present during the Six Nations, Vunipola appears to represent the impact replacement.
Stevens' selection comes after a two-year ban for cocaine use and last year's retirement from international rugby, making a mockery of those insistent that the club game doesn't represent a sufficient pathway to a Lions tour. The 30-year-old's scrummaging makes him a potent weapon.
Dylan Hartley, who has previous with Gatland during his days coaching Wales, and Tom Youngs have both been given the nod, even though their battle for England's No.2 shirt remains inconclusive - swelling the confusion surrounding Best's omission.
But shocks, mavericks and unknowns are few and far between. Wasps' Christian Wade and Ireland's Simon Zebo would have added flair and inventiveness on the wing, but both were overlooked.
And fortunately from an Australian point of view, no Jonny Wilkinson either. A decade on from his memorable drop-goal which clinched the World Cup, the former England fly-half turned down the opportunity to travel down under.
Given the suggestion that Gatland was preparing to name a 38-man squad; eventually naming just 37, Wilkinson's about-turn in his Lions career suggests he would have filled that void. The French Grand final and his own physical well-being deprived him of that opportunity.
"We thought we could have taken three 10s, we understand there is a little bit of a risk," Gatland said.
"We had the discussion if someone picked up an injury but there was no yes or no from him (Wilkinson). He wasn't quite sure if he was going to have an operation in the off-season.
"He's managing himself from week-to-week at the moment, not training very much
"If one of the 10s get an injury a couple of weeks out and he's playing and he's fit and available, that's another discussion."
You wonder what impact Wilkinson's 24-point master class to take Toulon through the Heineken Cup final against Owen Farrell's Saracens had on the decision, and if the young England half-back was given a lifeline in the squad by the 33 year old's club commitments.
"Owen by his own standards wouldn't have been happy; he didn't have the greatest game in the world. We've been impressed with his maturity and his composure over the last year or so and that sometimes happens," added Gatland.
"Obviously Jonny's had a big influence on the game.
"He controlled that game well, it was a good solid kicking display. He's run a few times back inside when people have come hard at him. Obviously the drop goal was a bit special."
Last Sunday's semi-final should have helped shape the final piece of Gatland's puzzle; instead it represents the first causality.
If those games at Twickenham and the Millennium Stadium did help form the basis for Gatland's squad across the last six months, then it was potentially Wales' grand slam of 2012 which saw Warburton emerge the overwhelming favourite of Gatland to lead the tour.
The 24 year old rebuffed the captaincy for the Six Nations decider against England, to put his performance first, a decision Rob Howley believes only enhances his claim as tour skipper.
"He's got a great working relationship with Warren Gatland and that's the key which decided that Sam is that person," said Howley.
"We never questioned Sam's captain credibility. It suited Wales at that time and more importantly Sam.
"I'm delighted for him, I think he'll do a fantastic job. He will certainly lead from the front and he's probably one of the best 7's in world rugby."
Warburton is all action and no words. Considered in his approach, a task made easier by the presence of former skippers O'Driscoll and O'Connoll this summer, his performance will be the ultimate example as captain. Comparisons with Martin Johnson, the last victorious Lions captain, are naturally rife.
"Growing up and everything I've heard about Martin Johnson I think that if I was playing under him I really respect that kind of leader and I think that's what works best and I think that's who players respond too as well," Warburton said.
"That's why he's been such a great leader and a legend because of his style and if that works then hopefully I could have a recipe that is fairly similar.
"The one reservation I've always had about captaincy is making sure you don't become complacent.
"We're very fortunate to have a big group of players to choose fromand that competition will bring the best out of the boys when we're in Australia."
The Australian media have build this Lions squad as 'slabs of red meat'. In Warburton, the Lions have the cut above the rest.