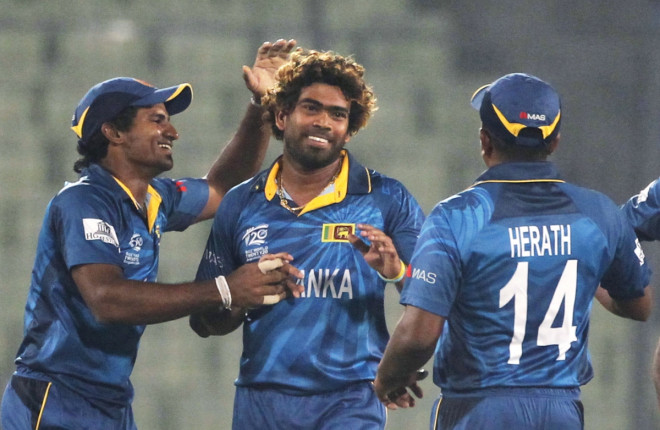 17:27: Herath finishes with 5 for 3 and the third best figures in T20 international history and he's the hero today. Amazing game and Sri Lanka are into the last four. New Zealand broken and out.
Well that's all we've got time for on this T20 live text. We're back tomorrow with Pakistan v West Indies. Until then, goodbye.

Sri Lanka beat New Zealand by 59 runs and qualify for semi-finals

Over 16: New Zealand All Out: Herath is back and can he finish off New Zealand? Williamson sweeps him away but there's a mix up and a run out seeing the opener depart. With no Corey Anderson only one wicket is required for victory. Herath gets his fifth as Boult edegs behind and Sri Lanka have done it.

Wicket: New Zealand 60 all out: Boult c Jayawardene b Herath 3
Wicket: New Zealand 60 for 8: Williamson run out 42

Over 15: New Zealand 59 for 7: New Zealand need 69 from 36 balls with effectively two wickets in hand. Malinga wants this done now and Williamson is the glue holding this innings together. A chip away for one puts Boult on strike. He survives a bouncer to put Williamson back on strike and he puts away the loose ball for four behind square.

Over 14: New Zealand 51 for 7: The pain continues for New Zealand and a bit of injustice as well. Senanayake goes up for an lbw shout which looks like it is going down leg side and it's given. Malinga coming back.

Wicket: New Zealand 51 for 7: Mills lbw b Senanayake 4

Over 13: New Zealand 41 for 6: Williamson gets two and shows a tad more aggression too. Now a pull for four just aftert he required run rate goes above 10. Mathews clearly the weak link in this Sri Lankan attack but in his final over there is little rest bite.

Over 12: New Zealand 39 for 6: When do New Zealand realise the game is gone and they have to go for it? Well they hold back for now as Williamson gets a single with the penultimate delivery and Mills keeps Senanyake out.

Over 11: New Zealand 38 for 6: First four since the third over from Williamson who swipes down the ground. he is crucial to any sort of comeback here. Better over as Mathews fails to find sufficient movement.

Over 10: New Zealand 33 for 6: Another one for Sri Lanka who are closing in on the last four now. Senanayake replaces Herath and within three balls makes an impact as McCullum powers to Mathews on the leg side.

Wicket: New Zealand 33 for 6: McCullum c Mathews b Senanayake 2

Over 9: New Zealand 32 for 5: The Kiwis need 90 more runs to reach the semi-final but that looks a long way away. Mathews back for a second over as Malinga is given a rest. Spin has prevailed in this second innings but New Zealand hold off the inevitable for now.

Over 8: New Zealand 30 for 5: Herath on a hat-trick is fended off by Herath but the Sri Lankan isn't kept quiet for long and he traps Ronchi with another which drifts and spins back. Fourth wicket in three overs for him and this game has been turned on its head.

Wicket: New Zealand 29 for 5: Ronchi lbw b Herath 2

Over 7: New Zealand 28 for 4: Now it's the turn of Malinga as New Zealand need a major re-build. What a game this is turning out to be. Few runs to Luke Ronchi and Williamson to keep the scoreboard moving but they need some inspiration from somewhere.

Over 6: New Zealand 23 for 4: Sri Lanka think they have a third scalp after a bat-pad is caught at short leg. Now Herath wants an lbw against Taylor after he is trapped on the back leg. Now he gets his man with a straight one as Taylor departs after a five-ball duck. Amazing, now Herath bowls Neesham first up. What a spell. Herath has 3 for 0 and when he returns will be on a hat-trick.
Wicket: New Zealand 23 for 4: Neesham b Herath 0
Wicket: New Zealand 23 for 3: Taylor lbw b Herath

Over 5: New Zealand 23 for 2: No chance of an early finish here now as Sri Lanka are given encouragement in the fourth over where essentially three New Zealand wickets have gone down. Nice pull for four from Williamson to relincquish some of the pressure.

Over 4: New Zealand 18 for 2: Brendon McCullum comes to the crease as New Zealand make a mess of a run as Williamson fails to respond to Guptil's quick single. Double blow for New Zealand as Corey Anderson will not bat after dislocating his finger attempt to take that catch in the deep.McCullum needs a captain's innings here but he surcumbs to the pressure and comes down the wicket to one that spins and is stumped.Timely double wicket-maiden for Herath.
Wicket: New Zealand 18 for 2: McCullum stumped Sanagkkara b Herath 0

Wicket: New Zealand 18 for 1: Guptil run out (Herath) 5

Over 3: New Zealand 18 for 0: More good fortunes for Williamson as another inside edge flies for four. Things going the Black Caps' way already.

Over 2 New Zealand 12 for 0: Inside edge from Williamson which misses the stumps by inches. Clearly this pitch isn't full of runs and the Kiwis are playing themselves in rather than giving away early wickets. Williamson now finds the boundary.

Over 1: New Zealand 4 for 0: Can Sri Lanka, the masters of defending totals, do the inprobably and defend 120 to reach the semi-final. Guptil off the mark with a single round the corner. Williamson edges towards the slips but wide and to third man. Now two more as Kulasekara goes down leg.

16:02: Sri Lanka have looked so accomplished for much of this tournament but have gone to pieces as New Zealand have attacked from the outset. Just 120 required to reach the semi-final, possibly against West Indies or Pakistan. Malinga might have something to say but Sri Lanka need a big effort to keep New Zealand out.

Over 20: Sri Lanka 119 all out: Sri Lanka have to go big to stand any chance of reaching the semi-final and they get off to the worst possible start as Herath picks out Williamson from the Neesham full-toss. Captain Malinga in at No.11 but he's gone first ball and it's all over.

Wicket: Sri Lanka 119 for 9: Senanayake c Williamson b Neesham 17

Over 19: Sri Lanka 119 for 8: Perera makes four with a top edge as Sri Lanka put down the excelerator but he can't escape another miss-timed shot as he finds Williamson after skying a slower ball from Mills. Two missed run outs, the second a shocker from Mills who misses in sight of three stumps, lets Sri Lanka off.
Wicket: Sri Lanka 116 for 8: Perera c Williamson b Mills 16

Over 18: Sri Lanka 112 for 7: Neesham back into the attack with some variation but as Sri Lanka pass 100 Senanayake hits over mid-on for four. Now a slap through the covers for two. First genuine mistake from New Zealand as Anderson, who looks to have damaged his finger, palms the ball over the boundary for six. He goes straight off for some medical attention.

Over 17: Sri Lanka 98 for 7: How is the Sri Lankan tail then? Perera is the man who can get them above 130 but the ball onto the bat isn't favouring him. Good length from Mills who returns bu Perera does get a four as Guptil fails to gather the ball in the deep. So close to getting an eighth wicket.

Over 16: Sri Lanka 93 for 7: Real soft wicket as Kulasekara hits straight to McCullum. Too easy this as New Zealand persist with attacking fields and pitched up bowling.
Wicket: Sri Lanka 92 for 7 Kulasekara c McCullum b McClenaghan 0

Over 15: Sri Lanka 85 for 6: New Zealand bowling their way into the semi final here. Four to Jayawardene but the very next delivery he is bowled round his legs by McCullum. Superb stuff.

Wicket: Sri Lanka 85 for 6: Jayawardene b McCullum 25

Over 14: Sri Lanka 81 for 5: Ten an over takes Sri Lanka to 144 but at the moment they need to concentrate on batting out their overs as New Zealand grab another. Mathews edges McClenaghan behind to Ronchi and the Kiwis are in business again.

Wicket: Sri Lanka 81 for 5: Mathews c Ronchi b McClenaghan 6

Over 13: Sri Lanka 73 for 4: Spin comes into play for New Zealand as Nathan McCullum takes the ball. Just four runs come from it. You wonder when the Sri Lankan attack will come with only seven overs left.

Over 12: Sri Lanka 73 for 4: Thirimanne the only one seeing the ball well out there but in an attempt to up the rate he goes high towards Guptil at square leg and another wicket falls. Jayawardene discovers some timing in flicking for four for his first boundary.

Wicket: Sri Lanka 65 for 4: Thirimanne c Guptil b Neesham 20

Over 11: Sri Lanka 65 for 3: Much-needed boundary for Sri Lanka as Thirimanne chips over McCullum for four.Jayawardene is struggling for timing out there and he can only nurdle away a single to get off strike. Better over though from Sri Lanka as Thirimanne runs a two and then gets one with a miss-hit slog.
Over 10: Sri Lanka 55 for 3: We approach the half-way stage and New Zealand keep with pace and Sri Lanka aren't able to settle on this surface. McClenaghan may not have the wicket but two overs for just 12 is a very decent return.

Over 9: Sri Lanka 50 for 3: New Zealand persist witha slip to keep the pressure on Sri Lanka and they are producing a fielding performance to back up a thorough display in the field. That's the fifth for as Thirimanne dabs one through for a single. Just two from that one from Anderson.

Over 8: Sri Lanka 48 for 3: Trent Boult to be bowled out here and it's been a superb spell from the 24 year old who has combined movement and length. Thirimanne gets four but Boult finishes with 3 for 20. superb stuff but can New Zealand sustain it?

Over 7: Sri Lanka 42 for 3: Thirimanne edges through wide first slip and past an acrobatic dive from Nathan McCullum. NZ are ticker and are sensing a fourth wicket. They almost get it from a late McClenaghan yorker.

Over 6: Sri Lanka 35 for 2: First boundary since the third over as Sangakkara slaps through cover, as Boult goes a bit wide. Now a fresh air shot from the wicket-keeper batsman but when he makes contact next up he slashes straight to Anderson, who now has 3 for 14.
Wicket: Sri Lanka 35 for 3: Sangakkara c Anderson b Boult 4

Over 5: Sri Lanka 30 for 2: More pace on the ball from the Black Caps and Corey Anderson into the attack. Two of Sri Lanka's most experienced players at the crease now and they nurture their team throught the over without anymore damage.

Over 4: Sri Lanka 29 for 2: Dilshan goes for one scoop too many a total miss-time sees the ball sail into Ronchi's hands. Two wickets for Boult and Sangakkara in now and a play and a miss. Just two runs from it.

Wicket: Sri Lanka 29 for 2: Dilshan c Ronchi b Boult 8

Over 3: Sri Lanka 27 for 1: Controversy but Dilshan isn't distracted and he scoops it for four first up off Mills. Just three runs follow. Good start from both sides.

Over 2: Sri Lanka 20 for 1: Trent Boult given the ball now for New Zealand and one slip in for the left-armer. Short and wide with his second ball and Perera takes full advantage with a sliced four. A beamer from Boult forces a warning from the umpires but he follows it with one that looks down the leg side but it's given for a flick from Perera. He looks bemused and the Kiwis have a breakthrough.
Wicket: Sri Lanka 20 for 1: Perera b Boult c Ronchi b Boult 16

Over 1: Sri Lanka 12 for 0: So Kyle Mills opens up against Dilshan and Perera and the punishment begins. Perera flicks the ball away for four. After a man and his dog watched England v Netherlands, a real crowd here in Chittagong. Perera delicatly flicks another over mid-wicket for six to give Sri Lanka an ideal start.

14:30: This is the second Sri Lankan game I've covered in this tournament and their anthem never gets shorter, surprisingly. So New Zealand to bowl first after winning the toss. What factor will the dew have tonight. Sri Lanka failed to defend 190 against England remember. Here we go....

14:25: So here come the anthems. New Zealand followed by Sri Lanka. See you in about half an hour then.....

14:20: Just to return to England pitiful display in defeat to the Netherlands, Ashley Giles' future must be questioned after such an inept performance and he is currently fronting up to the media to explain such a defeat. "We were complacent and that was embarrassing," the one-day coach said. More reaction from Chittagong to come.

14:15: Teams:

New Zealand: Guptil, Williamson, McCullum, Taylor, Anderson, Neesham, Ronchi, McCullum, Boult, Mills, McClenaghan

Sri Lanka: Perera, Dilshan, Jayawardene, Sangakkara, Mathews, Thirimanne, Perera, Kulasekara, Senanayake, Herath, Malinga

14:10: The post-mortem from England's defeat to Netherlands may have only just begun, but we've got to turn our attention to the one meaningful game on this Monday afternoon between Sri Lanka and New Zealand. Very simple, the winner qualifies while the losers crash out of the tournament. New Zealand have won the toss and will bowl and teams are on the way.