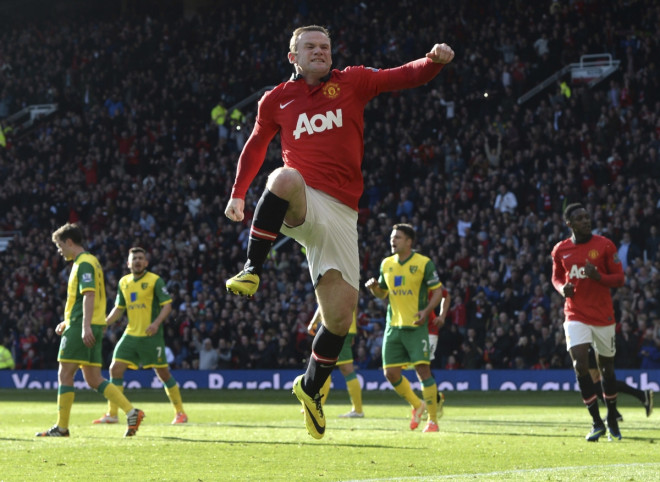 Southampton 2-0 Everton FT
Fulham 2-2 Hull FT
Stoke 0-1 Tottenham FT
Swansea 4-1 Aston Villa FT
West Brom 1-0 West Ham FT
Man Utd 4-0 Norwich LIVE
7:20pm: And that's a wrap! - Manchester United finish with a commanding win over Noriwch which leaves the Canaries deep in a relegation battle, while Ryan Giggs' men are still in seventh place. They're six points behind Tottenham but have a game in hand and with Giggs targeting Europa League football it's going to be a big run-in to the end of the season for the Red Devils, despite their disappointing season.
7:17pm: Just minutes left in this match - it hasn't been a perfect match for United, with Norwich looking as bad as the home side looked good. But fans are in party mode and it will certainly be a positive first reception when the final whistle blows for Ryan Giggs, who has got the side playing like in Ferguson's days again after they looked a shell of their former title-winning selves under David Moyes.
7:10pm: Norwich make their final change for the day with Alexander Tettey on for Leroy Fer. It's been a nightmare match for the Canaries who are now just one point from the drop zone.
7:05pm: Earlier today a banner flew over Old Trafford with the words 'Thank you Moyes - Malta FF' on it. The explanation for the second bit, though I still don't really get it - is here
6:59pm: GOAL! Juan Mata has a brace as well as Rooney now as United go up 4-0 against Norwich. Valencia and Evra both had hands in that goal with Hernandez offering another option for the Spaniard who saw the opportunity himself. Not a bad first game for Ryan Giggs!
6:58pm: And another change for United with Chicharito on for Tom Cleverley.
6:56pm: Norwich make a change with Hooper on for Redmond. United are completely dominating right now with eight shots on target to their opposition's one.
6:51pm: Giggs quickly makes another substitution after that fine goal from Mata, sending on Young for Kagawa.
6:50pm: GOAL! United are on fire - going up 3-0 thanks to Juan Mata who has proven to be a super sub indeed! After Rooney fails to get the ball into the back of the net Valencia picks it up and passes to Jones, who finds Mata for another more successful shot.
6:47pm: And Giggs has made his first substitution - Welbeck is off in place of Mata. Can Mata prove to be a super sub for United today?
6:45pm: Van Wolfswinkel is off for Norwich with Elmander coming on in his place.
6:42pm: United are absolutely on the offensive now with Vidic, Evra and Jones all having shots on goal. The side are currently holding 67% possession with 13 shots on goal to zero for Norwich. Could this turn into a thrashing for the Canaries?
6:37pm: GOAL! Wayne Rooney is in with a brace as United take their lead over Norwich to 2-0. The striker curls the ball from outside the box, some would say that luck was on his side but either way United ae now in control of this game.
6:33pm: And we're off again! United and Norwich haven't made any changes to their squads at this stage.
6:16pm: And that's a wrap - United are in the driving seat and Ryan Giggs will be happy to have the lead after they created limited chances against Norwich.
6:11pm: GOAL! Rooney puts the ball into the back of the net with ease and United are 1-0 up. Ryan Giggs clenches his fists and the manager looks to be keeping control of himself, though he must be pretty excited on the inside right now.
6:10pm: PENALTY! United are handed a penalty after Steven Whittaker appears to pull on Danny Welbeck, with the striker going down. Replays might suggest he went down easily, but Wayne Rooney's taking to the spot...
6:00pm: United so far haven't produced the performance on goal they might have hoped for, with Norwich looking to attack the side rather than park the bus in this half.
5:50pm: While United have dominated the news over this game with their incoming manager, fight for European football and life after Moyes, for Norwich it's a pretty big deal too. The side are currently 17th, and a win would place a four point bumper between themselves and 18th-placed Fulham. A loss keeps them out of the relegation zone but puts a lot more pressure on the coming weeks for the side.
5:42pm: Close for Norwich, in fact the ball was in the net! But it's ruled out as van Wolfswinkel fouled Jones before making the goal happen.
5:37pm: Wayne Rooney's on the ball already with an attempt on goal but it's blocked by Steven Whittaker. The side are absolutely dominating possession in the opening minutes with 71%, Norwich hoping to stay firm during the onslaught.
5:32pm: According to InfostradaSports, "Alex Ferguson won his first point as Man Utd manager in a match against Norwich (0-0) in Nov 1986. The rest is history."
5:30pm: And we're off!!
5:27pm: It's minutes until kick-off and Old Trafford have a serious case of Ryan Giggs-fever. His selections are very Ferguson-esque and with a new era falling upon the club post-David Moyes even those who hate United the most will be wondering how the manager performs today.
4:54pm: And that's a wrap! Swansea are now confirmed as safe for the season. For Fulham, Aston Villa and West Brom it's a very different story. Tune in soon for the late kick off and Ryan Gigg's first as Manchester United manager!
4:51pm: GOAL! Swansea go up 4-1 over Aston Villa and the fans are calling for Paul Lambert's head! Wilfried Bony scores a successful penalty to take the Welsh side into trashing territory over their opposition.
4:49pm: Into injury time...
4:46pm: GOAL! Hull have equalised thanks to Shane Long! This doesn't look good for Fulham who appeared so in control until the final 20 minutes.
4:43pm: West Brom have been all over West Ham in terms of shots on goal but the latter are dominating possession with 58%. They've also had 4 shots on target with Andy Carroll putting the pressure on West Brom's defenders.
4:42pm: We're heading into the last 10 minutes of four games today and while Fulham will be hoping to kill off their match against Hull, Tottenham are equally having trouble killing off a 10-man Stoke side.
4:40pm: The biggest news from Ryan Giggs' first squad selection as Manchester United manager (besides not including himself - how could he?!) is that he's relegated Juan Mata to the bench. Will the Spaniard create greatness through being subbed today?
4:35pm: GOAL! Craven Cottage is in stunned silence as Hull score. Nikica Jelavic gets a header in to pile the pressure on Fulham once more.
4:34pm: Team line-ups for Manchester United v Norwich:
Norwich starting XI: Ruddy; Whittaker, Martin, Turner, Olsson; Johnson; Fer, Howson; Snodgrass; Redmond, Van Wolfswinkel.
Manchester United starting XI: De Gea; Jones, Vidic, Ferdinand, Evra; Valencia, Carrick, Cleverley, Kagawa; Welbeck, Rooney
4:30pm: GOAL! Swansea go up 3-1 against Aston Villa, who are now in more trouble as the sides in the drop continue to shift. Jonjo Shelvey is on song again for the side as he finds Pablo Hernandez with a cross at just the right rime. The Spaniard is on target and Swansea look in control.
4:24pm: Considering Stoke are one man down they don't look like it if you're going by stats. The side are dominating possession with 54% and have had 9 shots on goal to Tottenham's 10.
4:19pm: Fulham are now out of the relegation zone, in 17th place, and their fans are in completely joy over the fact. It's not all set in stone yet with Norwich and Cardiff still to play but should the Cottagers win today they will have taken significant strides towards showing their fight for safety.
4:15pm: GOAL! Fulham go up 2-0 within minutes!! Fernando Amorebieta scored to double the side's lead over Hull.
4:13pm: GOAL!! And there it is! A much-needed goal for Fulham puts the side up 1-0 against Hull, thanks to Ashkan Dejagah. His shot from the right side of the box into the top left-hand corner could be one of the most important of the side's season.
4:10pm: RED CARD! Shawcross is off for Stoke are getting a second yellow card. His foul on Danny Rose was too much for the referee to ignore and Spurs are now holding a big advantage over 10 men.
4:09pm: The away fans at West Brom v West Ham are certainly showing their disdain for Sam Allardyce in full force today. Songs, banners, you name it - they want the manager out.
4:05pm: And we're back!
3:48pm: Half-time is rolling around everywhere for the 15:00 kick-offs, with Tottenham and Swansea in the driving seat against Stoke and Aston Villa respectively while West Brom holds the advantage over West Ham and Fulham and Hull are yet to score.
3:44pm: Aston Villa are on the offensive against Swansea in the hopes of finding an equaliser with both Fabian Delph and Andreas Weimann trying to find the back of the net.
3:40pm: West Ham are working hard to get back in the game against West Brom with the side currently holding 56% of possession. They've had four shots on target too, surely a goal is looming soon for Sam Allardyce's men??
3:33pm: GOAL! Hold that thought! Tottenham go up 1-0 over Stoke thanks to a goal from Danny Rose. Emmanuel Adebayor deserves much of the credit for this though, putting in some great work on the right before Rose heads it in.
3:32pm: Stoke are now looking on top as Stephen Ireland has a good chance for the side, taking their tally to 6 shots on goal to Tottenham's 5. They're also in control of possession now.
3:25pm: GOAL! Supporters don't know where to look as Jonjo Shelvey shoots from the centre circle (!) to take Swansea up 2-1 against Aston Villa. That's three goals in the first 26 minutes.
3:23pm: GOAL! It's like Aston Villa heard me as I typed! The side equalise with Swansea thanks to a goal from Gabriel Agbonlahor.
3:19pm: These are certainly troubling times for Aston Villa - if Fulham win today and Norwich win, the side will only be clear of the relegation zone on goal difference. Should only Fulham win, they'll be a game clear of the drop. The side need to pick up their game against Swansea but they're already on the backfoot.
3:17pm: Stoke City are getting into the game against Tottenham with the side now having 3 chances on goal to Spurs' 4. The Potters are certainly safe from relegation but will be keen to finish in the top half this season under Mark Hughes.
3:15pm: West Brom will be very pleased with that, with the side now five points clear of relegation if the current results stand. Should Fulham win, they'll be four points clear.
3:11pm: GOAL! West Brom take the scoreline to 1-0 against West Ham after Saido Berahino finds the back of the net, thanks to a pass from Morgan Amalfitano.
3:10pm: GOAL! Swansea go up 1-0 against Aston Villa thanks to Wilfried Bony. Jonjo Shelvy passes to the striker, who slots it straight past the keeper.
3:10pm: Fulham are looking the goods against Hull with 59% of possession at present. The side desperately need to win this game or relegation could be all but assured. Should they take three points, they will climb above Cardiff and Norwich into 17th, with Norwich facing a tough task at Old Trafford tonight to get back on top.
3:05pm: Two shots on goal for Tottenham already with both Nacer Chadli and Christian Eriksen having a crack.
3:00pm: And we're off!!
2:57pm: We're now fast approaching kick off for four fixtures in a big Premier League Saturday. Tottenham take on Stoke and need a win to keep an advantage over Manchester United in the table, while West Brom will be hoping to stay out of the relegation zone with a win over West Ham. Aston Villa are also trying to clim out of the fight over the drop as they face Swansea and Fulham are currently 19th, relying on poor results from higher teams and hoping that a win over Hull will propel them at least into 17th for now.
2:37pm: And that's a wrap! Everton have suffered what can only be described as a nightmare afternoon. The side are one point behind Arsenal and the Gunners have a game in hand. Meanwhile, a top performance from Southampton. Join us soon for the 15:00 kick offs.
2:34pm: Just like Everton fans will be praying that Newcastle pick up their form on Monday, Tottenham supporters were hoping for the same in the final game last season. The Gunners came out on top then, celebrating their qualification for Champions League in the dying seconds, and they may well be close to doing the same against the Toon this time.
2:33pm: Three extra minutes - it most certainly won't be enough for Everton to turn this around.
2:31pm: Lallana is off for Southampton in the place of Reed. A sign that Southampton think the win is in the bag now?
2:29pm: Southampton keeping possession and Everton look out of luck with the final 10 minutes now looming. It'll be an uphill battle for the side to challenge Arsenal for Champions League qualification now, and if things stay as they are Manchester United will only qualify for Europa League if they finish above Tottenham in the table.
2:24pm: Starting line-up for Swansea v Aston Villa:
Swansea XI: Vorm, Rangel, Amat, Williams, Davies, Britton, Shelvey, de Guzman, Hernandez, Routledge, Bony
Aston Villa XI: Guzan, Bacuna, Vlaar, Baker, Bertrand, Albrighton, Westwood, Delph, El Ahmadi, Agbonlahor, Weimann
2:22pm: Starting line-up for Stoke v Tottenham:
Stoke XI: Begovic; Cameron, Wilson, Shawcross, Muniesa; Arnautovic, Whelan, Nzonzi, Odemwingie; Ireland; Crouch
Tottenham XI: Lloris; Naughton, Dawson, Kaboul, Rose; Lennon, Chadli, Paulinho, Eriksen; Adebayor, Kane
2:22pm: Starting line-up for Fulham v Hull:
Fulham XI: Stockdale; Heitinga, Hangeland, Amorebieta, Riise; Riether, Parker, Sidwell, Diarra, Holtby; Rodallega
Hull City XI: Harper, Rosenior, Bruce, Chester, Davies, Meyler, Huddlestone, Livermore, Jelavic, Long, Elmohamady.
2:21pm: Starting line-up for West Brom v West Ham:
West Brom XI: Foster, Reid, Dawson, Olsson, Jones, Amalfitano, Mulumbu, Dorrans, Brunt, Sessegnon, Berahino
West Ham XI: Adrian, Demel, Tomkins, Reid, McCartney, Nolan, Noble, Diame, Jarvis, Carroll, Downing
2:21pm: Ward-Prowse comes on for Southampton in place of Gallagher.
2:17pm: Still no bark to Everton's bite at the moment and the side are starting to look on the back foot again as Southampton regain control over possession. Saints have had 12 shots on goal compared to Martinez's side's 9.
2:09pm: Yellow card for Leon Osman for diving in the penalty box. Dejan Lovren challenged the Everton man and the Toffees are protesting that it was a genuine penalty.
2:07pm: On the theme of reactions to own goals (see Alcaraz's below), here's Coleman's.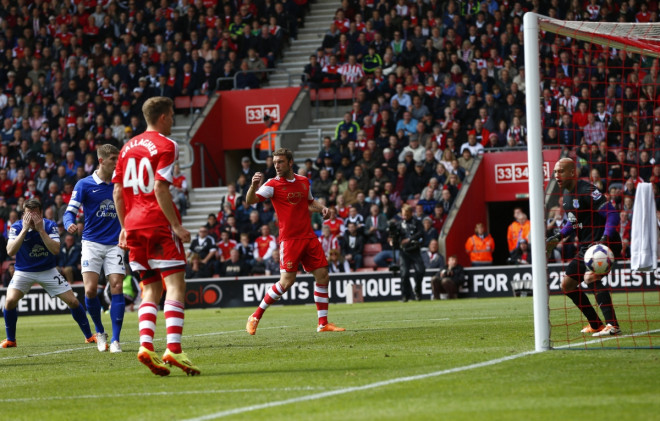 2:04pm: Another chance for Southampton as Rickie Lambert hits the right post with a shot from the outside of the box.
2:02pm: Martinez makes another change, with McGeedy on for Deulofeu.
2:00pm: Everton might be stepping it up this half but the side only have one shot on goal so far which is worrying considering they're hoping to score three in the coming half.
1:53pm: Looks like this will be a better half for Everton but the side have a lot of work to do if they hope to stay in the fight for Champions League qualification. Arsenal are playing Newcastle on Monday night and with the way the Toon are playing at the moment it will likely be a victory for Arsene Wenger's men. If they're four points ahead in the table that could seal the deal for top-tier European football - can the Toffees score three times in this final 45 minutes?
1:52pm: Lukaku is ruled offside after getting past Shaw and picking up a pass from Naismith but it's controversial, with the Everton man looking to be on a completely acceptable run into goal.
1:47pm: Let the second half begin! Everton make one change, taking off Ross Barkley for Leon Osman.
1:33pm: And that's half-time. It's been a disastrous 45 minutes for Everton, can they get back in the game in the second half? Can their players score goals for their own side??!
1:31pm: Everton with a slight advantage in possession at the moment, but Gareth Barry is shown a yellow card for a bad foul on Gallagher in the centre.
1:27pm: And trying he is, with Lukaku ruled offside after a through-ball from Baines. There is still hope Everton fans.
1:25pm: Lukaku is in with a header from close range but it's too high after the striker is on the reciving end of a cross by Gerard Deulofeu. Everton will be needing his brilliance in front of goal today more than ever.
1:22pm: This is going to be very tough for Everton now with Southampton fans taunting the side for helping them to 2-0 up. There is some controversy in the lead-up to the goal with Barry being grabbed by Cork while trying to be on the receiving end of Baines' free kick. Could have been a penalty and would have meant this mess never happened for the Toffees.
1:19pm: GOAL! Oh dear Everton, oh dear indeed. Seamus Coleman makes a second own-goal for the side as Southampton go up 2-0. Coleman is distracted by John Stones and puts the ball right past Howard yet again. The side are now very much on the back foot in both this game and their Champions League hopes.
1:15pm: Southampton are bossing the midfield and having the majority of chances at the moment, with Everton looking particularly sleepy at the back. Being without Sylvain Distin or Phil Jagielka is hurting them dearly and they need to get back into this match to keep the pressure on Arsenal in fourth place.
1:12pm: Here's a visual of just how mad Alcaraz was with himself after heading in Southampton's goal. Attempting to smother yourself with the pitch is pretty angry, I'd say...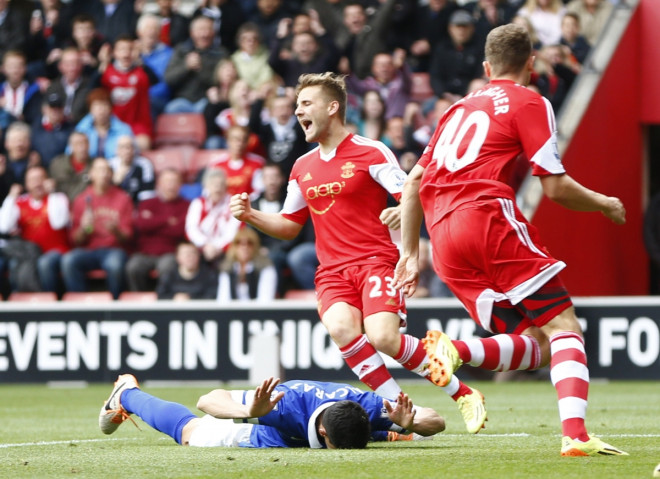 1:09pm: Southampton pushing up on goal now with 5 shots compared to Everton's 3. Just one on target though for each side - should they get more on target it could be a tough game for Tim Howard.
1:06pm: Now it's back up the other end for Southampton with Jack Cork and Stephen Davis having a crack on goal. Should the side go up 2-0 this early it will certainly be disastrous for Martinez. And Naismith appeared to be injured before Cork's shot but the Scot is now back on after a couple of minutes receiving treatment.
1:03pm: It's Gerard Deulofeu's turn to have a shot for Everton but it's saved by Artur Boruc - the Toffees look to have recovered from their first minute of madness.
1:00pm: Two corners so far for Everton and both have been under par. The second came from some good work by Steven Naismith but Luke Shaw is in the way to prove that he's the defender everyone says, correcting his mistake to catch the Everton man on the ball.
12:55pm: Alcaraz was not happy when he realised what his header had done for Southampton as you can imagine - showing the replays it will be very frustrating for Everton fans if this costs them fourth place. The side are now going net to net with the Saints but it's Martinez's side who look more in control, getting possession back to 50-50.
12:50pm: The Toffees look to be recovering well with Romelu Lukaku having a shot on goal, though it's far and wide over the bar. The side will be keen to get one up quickly and get the scored back to even.
12:47pm: GOAL!! Well that was quick wasn't it?! Southampton are in the driving seat thanks to an own goal from Antolin Alcaraz. A terrible mistake from the defender who normally wouldn't be starting but had to due to Martinez's injury problems in defence. Everton are on the back foot already after just 53 seconds.
12:46pm: And we're off!
12:40pm: Five minutes until kick-off! Everton are currently 8/5 odds to take the win while Southampton are 9/5. It could go either way according to Bet365!
12:36pm: Elsewhere today Ryan Giggs is preparing to manage Manchester United for the first time as the side take on Norwich at home. They are already out of contention for the Champions League but could qualify for Europa League depending on how results go for Tottenham. The side could also qualify if Arsenal to finish fifth and win their FA Cup final against Hull.
Ryan Giggs has targeted the European competition as a goal for United's final four matches, telling reporters yesterday: "I want to win (the final) four games. We are relying on other teams dropping points but I think it is important you have European football at Old Trafford," the United boss told MUTV.
"I want European nights at Old Trafford, it is as simple as that."
12:28pm: Meanwhile for Southampton safety is certainly assured in the Premier League for next season with the side currently eighth in the table, and it doesn't look likely that they'll be able to overtake Manchester United with an eight point difference between the sides. The motivation certainly lies with Everton much more than their opposition today but in Martinez's first season in charge of the side can they do what seemed like the impossible at the start of the season?
12:22pm: Everton are currently fifth in the table and just a point behind fourth-placed Arsenal. The side were in the driving seat to qualify for Champions League after defeating the Gunners at the beginning of the month but a 2-3 loss to Crystal Palace has put the pressure back on for Roberto Martinez.
12:20pm: The line-ups for Southampton v Everton are as follows:
Southampton: Boruc, Clyne, Fonte, Lovren, Shaw, Cork, Wanyama, Steven Davis, Gallagher, Lallana, Lambert. Subs: Ward-Prowse, Do Prado, Chambers, Gazzaniga, Hooiveld, Targett, Reed.
Everton: Howard, Coleman, Stones, Alcaraz, Baines, McCarthy, Barry, Naismith, Barkley, Deulofeu, Lukaku. Subs: Robles, Hibbert, McGeady, Osman, Garbutt, Browning, Ledson.
Referee: Michael Oliver (Northumberland)
12:15pm: Good afternoon and welcome to IBTimes UK's coverage of a super Premier League Saturday full of action once again. There's only a handful of games left this season and with the Champions League and Europa League spots still undecided big matches await the likes of Everton, Tottenham and Manchester United.