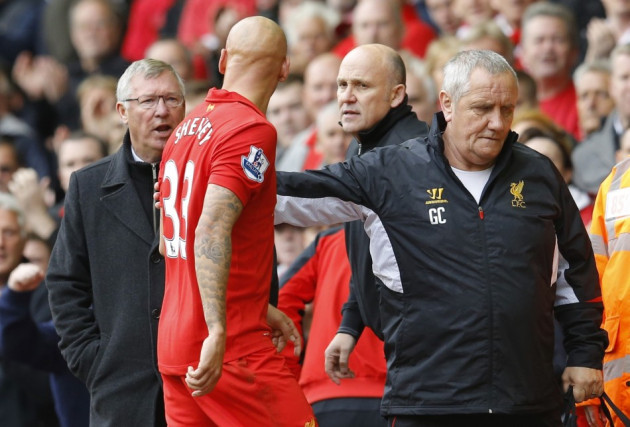 Shelvey was sent off for a foul on Manchester United defender Jonny Evans during the Reds' game against United at Anfield. The game finished 2-1 to United, after Robin van Persie netted a controversial second half penalty.
The 20 year old, who scored a second half brace in the Europa League group stage game against BSC Young Boys, was seen having an argument with Ferguson, as he left the pitch after referee Mark Halsey's red card. The player later apologised to his fans and to Ferguson but insisted he stood by his tackle and was not wrong in accusing the United manager.
"I apologise to the fans for getting sent off but no way was I pulling out of that tackle in a game of that importance. I'm sorry. I have also apologised to Sir Alex, just where I come from people don't grass people up to get someone sent off," Shelvey was quoted as saying by The Mirror.
Ferguson, who was understandably less than impressed at Shelvey's outburst, chose to simply gloss over the incident but maintained the tackle deserved a red card.
"It was a clear red card, it was dangerous, I don't think he went for the ball. Jonny Evans went for the ball, got the ball, and there was no other decision the ref could have given," the Scot said after the game, adding, "He was trying to blame me I suppose! He can apologise if he likes. He should do that, he's responsible for his own actions."
Shelvey has found a measure of support from his manager, Brendan Rodgers. The former Swansea City gaffer blamed Halsey for having contributed to the home team's defeat.
"If Jonjo Shelvey gets sent off, Jonny Evans has to get sent off. If you watch the replays, if Jonjo's got sent off for both feet leaving the ground, then Jonny Evans has to get sent off for that as well. It's a tackle a player has to go for. It's also a tackle the Manchester United player has to go for - but the Liverpool player can't get sent off for it and the Manchester United player stay on the field," he told the club's official Web site after the game.