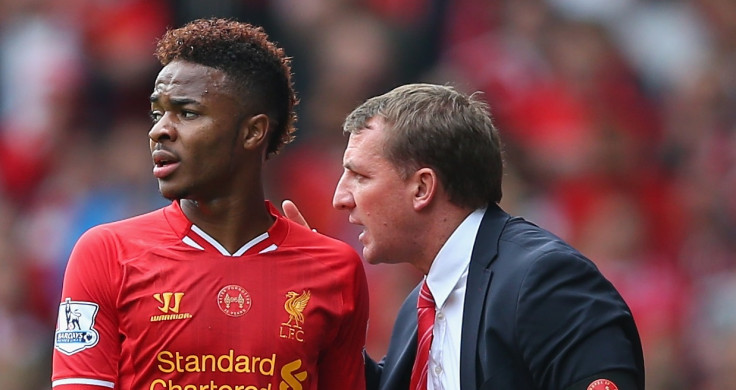 Liverpool manager Brendan Rodgers expects Raheem Sterling to sign a new long-term contract at Anfield "imminently".
Being one of the lower earners in the first-team squad – receiving around £30,000 a week – the 20-year-old star's future at Anfield has been under scrutiny in recent times after reports earlier in the season claimed the versatile attacking midfielder was not happy with a renewal offer made by the Reds.
Even though the prodigy's current contract is not due to expire until 2017, reports have since claimed both Bayern Munich and Real Madrid were ready to take advantage of his situation at Anfield to secure his services.
But Rodgers has now played down the rumours, claiming the club are already speaking with Sterling's agent regarding a new deal.
"Obviously the club are speaking with his representatives on it. I would think that will be concluded very imminently," the manager said during the press conference ahead of the FA Cup fourth-round tie against Bolton Wanderers on Saturday 23 January.
"You can see he's very happy, it's nothing to do with Raheem - he wants to be here. Hopefully we'll get a solution on that very soon."
Meanwhile, speaking about the game against the Championship side, Rodgers confirmed striker Daniel Sturridge will remain on the sidelines.
He said: "We're still waiting on working on him, he's not available at the weekend."
However, both Mario Balotelli and Glen Johnson are set to return to action.
"Joe Allen is back in training this week. Glen Johnson has had a good week and is available, Mario Balotelli also. Brad Jones is missing though," the boss said.
Rodgers revealed he will make some changes to his line-up following the 1-1 draw against Chelsea during the League Cup semi-final first leg on Tuesday 20 January.
"We'll make some changes [to the squad], but we want to win. We'll look at our squad and it's there to make changes, but no too many. Jordan Rossiter will be involved. We have some great young players as the academy has done a wonderful job aligning players to our philosophy," he said.
"The FA Cup is up their with our other priorities. This season was always going to be difficult, we weren't going to challenge for the league this year. This season as about getting into the top four, minimising the impact of so many new signing, trying to make them have an impact and win silverware. Next season we will be challenging for the league again."