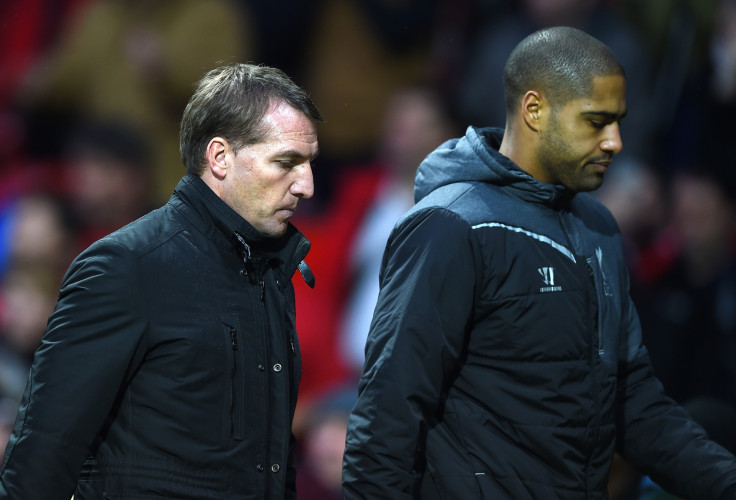 Liverpool defender Glen Johnson faces a race to be fit in time to face Arsenal in the Premier League next weekend after limping out of the defeat to Manchester United.
Johnson was replaced by Kolo Toure after 26 minutes at Old Trafford after suffering a groin strain and limped down the tunnel having received brief treatment on the pitch.
The 30 year old's muscular problem is the second injury to befall him this season after he missed the first two months of the campaign nursing a knee ligament injury. But Rodgers will be hopeful Liverpool will not lose the England international for as long.
"Glen was a groin injury - he's over-stretched his groin," said Rodgers. "With Adam [Lallana, who was replaced by Mario Balotelli at half time], we just felt we needed something more through the middle. I thought Adam did well, but I felt we needed some presence and to slightly adapt the system."
Despite being swatted away by their fiercest rivals, Liverpool produced a much-improved performance in defeat to United, with David de Gea's inspired display in consistently keeping out Raheem Sterling and Balotelli only depriving the Reds.
And though the seventh league loss of the campaign sees Liverpool lose further ground in the bid to secure a Champions League place, Rodgers had reason for optimism.
"We were behind in the first half, but I thought we were the better side," he added. "We could have shown a little bit more quality at times in the final pass, but I always felt we had opportunities to score.
"In the second half, we needed the next goal in the game. Once it goes to 3-0, it can be really difficult, but we still kept going right until the very end and I could not have asked any more from the players we had.
"For me, the whole scenario is about looking to build the team again. We had a team that was growing for a couple of years, but the squad has changed now through injuries and whatnot. We're having to recapture the team ethos again, and that's something we're looking to build towards.
"It's not easy, but whenever it's consistent that you're not scoring goals, you're always going to try to find the solutions for that. There'll be a number of reasons why it changes, but the bottom line is, we just haven't been consistent enough over the course of the season."