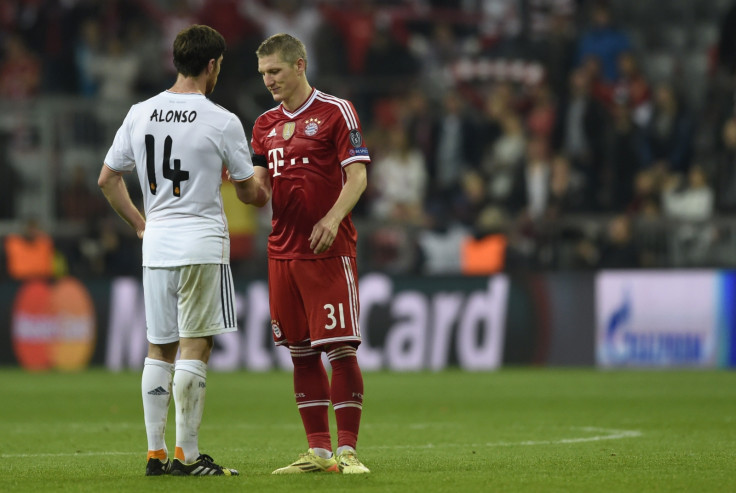 Liverpool legend Xabi Alonso, currently serving as a Bayern Munich midfielder, has risked the wrath of the Reds' supporters by sending a good luck message to new Manchester United signing Bastian Schweinsteiger.
The pair enjoyed a big season together at the Allianz Arena following the Spanish international's move from Real Madrid last summer, helping Pep Guardiola's side to another Bundesliga title – the 25th in the club's history.
The German midfielder has decided to move on though, opting to test himself in the Premier League after 13 years in the Bayern first team. While Alonso is not jumping for joy following his colleague's move to Old Trafford, he did wish him the best in the English top flight.
"Basti has been very important to Bayern for the past 10 years. But, he has made the decision to move on. That's his call and I can only wish him the best," said the former Real Sociedad star, according to Goal.com.
Alonso spent five years at Liverpool between 2004 and 2009, with Rafael Benitez bringing the player to Merseyside following his own arrival at Anfield. Ironically, it was a falling out between the pair that led to the midfielder's move back to La Liga.
In his time with the Reds, Alonso made over 200 appearances in all competitions and got his hands on a number of trophies – including the Champions League in his first season with the club. The FA Cup followed 12 months later.
His own future at Bayern is far from certain, despite having less than a year to run on his current contract. The 33 year old insists that now is not the time to discuss a new deal though, opting instead to focus on pre-season preparations ahead of a clash with Inter Milan in China.
"My contract? We will see what happens. This is not the time to discuss this subject," he said during a press conference in the Far East.
The Daily Express claims that Liverpool are now on alert to bring the player back to the club, although there is no suggestion that Brendan Rodgers does indeed want to bring the Spaniard back to Anfield.
Alonso, meanwhile, is focusing on the challenge of getting back into the Bayern starting line-up next season, admitting there is plenty of competition for places ahead of the new campaign.
"We have a very complete squad. We have two players for each position," he concluded.
Schweinsteiger will have his own 'complete squad' to battle with at United, with manager Louis van Gaal increasing competition at the heart of his side not just with the addition of the German but also Morgan Schneiderlin.
The duo will battle with Juan Mata, Ander Herrera, Michael Carrick and Marouane Fellaini for opportunities in the Red Devils side, while Daley Blind can also do a job in that role if required at Old Trafford.