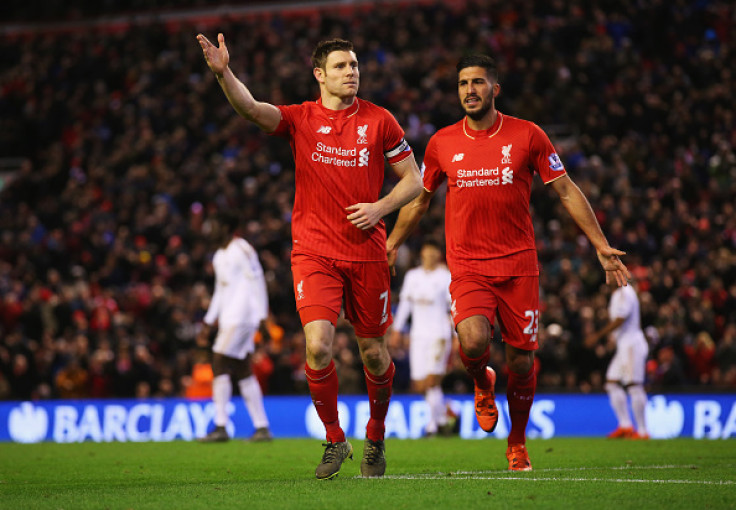 Liverpool midfielder James Milner has praised the younger generation of Reds players, who have come into the team and performed at a time of need, but warned them regarding the perils of falling out of line and lacking the commitment needed to play at the top level on a regular basis. The former Manchester City midfielder has made it clear that the senior players are ready to step in and put them in line if they veer off the intended course.
Jurgen Klopp has called up a number of youngsters into the first team this season in both the League Cup and FA Cup campaigns and has praised them for their performances. The Merseyside club have made it to the final of the Capital One Cup, where they will face the Etihad Stadium outfit, but were knocked out in the fourth round of the FA Cup by West Ham United earlier this month.
The former Borussia Dortmund boss, however, praised the youngsters' contribution and Milner has echoed his manager's words and praised them for the contribution and believes they will become better players with the experience gained.
Jordon Ibe, Cameron Brannagan, Joao Teixeira, Sheyi Ojo and Ryan Kent are a number of youngsters who have been given a chance to shine with the first team. Klopp has made it clear that the best youth team players at the club will remain at Anfield rather than be sent on loan to other clubs, which only focus on individual development rather than team building.
"They've got their heads on their shoulders, their feet on the ground, and they know what they want to achieve. If they don't, that's where we step in and give them a kick up the rear but I don't see that being too much of a problem," Milner told the official Liverpool website.
"To perform how they did over those two games and when they've been called on this year is great. We've had a lot of injuries this year and you want those boys to come in and not just fill that spot for the time being but to push whoever's holding that shirt and be part of the squad, improve and become better players as well."
"Ultimately they're the future of this club so the more games they get, the more experience and the more they can learn, it's obviously better for everyone," the England international added.