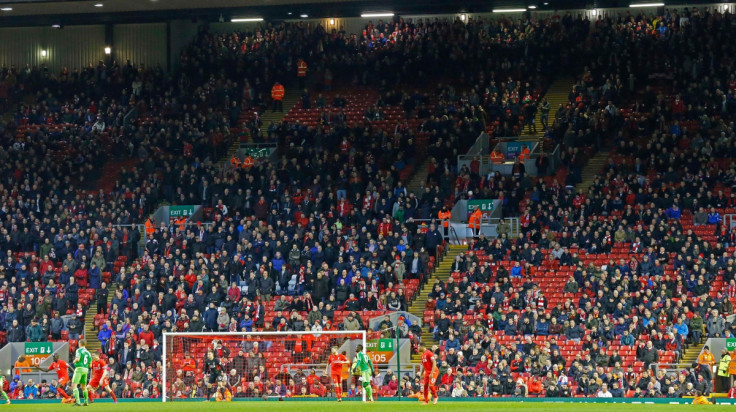 The Liverpool supporters groups behind the protests at Anfield have praised the "incredible power" of fans following the club's recent U-turn on proposed changes to their ticket pricing structure. Approximately 10,000 matchgoers staged a walkout in the 77th minute of the 2-2 draw with Sunderland on 6 February in order to demonstrate their displeasure at seeing some seats in the rebuilt Main Stand being valued at £77 ($111) from next season.
Such an initiative was also set to see Liverpool's highest season-ticket price spiral above £1,000 for the first time, something that generated widespread bemusement given the vast amount of extra money set to be injected into the Premier League in 2016-17 due to the new bumper television rights deal. Responding to strong opposition, on 10 February, the club's owner Fenway Sports Group (FSG) announced it had scrapped the ticketing plan and apologised for any distress caused.
Spirit of Shankly and Spion Kop 1906 have since labelled that turnaround as a positive step. In a joint statement, they said: "Although the last week has been a sorry tale in the recent history of the relationship between owners of LFC and the club's supporters, it has also seen both the best of what Liverpool FC supporters are about and the incredible power those same supporters have to promote change for the better at LFC.
"Today's announcement has to be seen a positive step in repairing the relationship between owners and supporters. If they had recognised what was being said by supporters about the impact of the original price rises (perhaps by actually meeting with their own Ticketing Working Group) then much of the embarrassment and upset of the last four days would have been avoided. It is a sobering lesson in listening to your supporters properly.
"We welcome these changes from the owners and that they have recognised the mistake made and apologised for it. We take no delight in them being wrong. It helps no one. What is important though is that a lesson is learned and that proper engagement and taking note of supporters' concerns occurs and those views are taken more seriously."
Although both groups are evidently pleased that their campaign has made an impact, they insist the work to make football more affordable must continue. At Prime Minister's Questions this week, David Cameron pledged to "look very carefully" at the issue after a letter from Labour MP Clive Efford.
"We started this process to make football cheaper for all LFC supporters, to make it fairer and to increase access for younger and local supporters," the statement continued. "This proposal is not our panacea. More must be done to make football affordable. However we have always stated that this is a journey that the owners should embark upon and this is a positive step in the right direction towards fairness and away from greed, but it is only one step.
"We will now take this opportunity to review the numbers and their impact upon supporters, we will be speaking to the club about it and we will speak with supporters to get their views. The Spirit of Shankly and Spion Kop 1906 believe that given the fact there has been this reconsideration by the owners, it is only fair and appropriate that we reconsider our next steps until the full impact of these changes can be established."