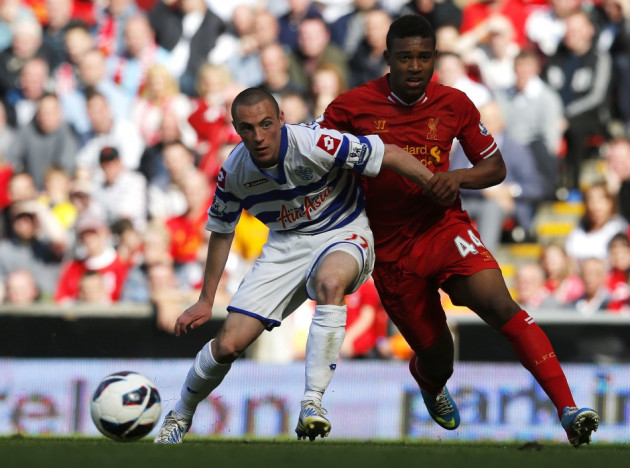 Jordan Ibe and Raheem Sterling are both determined to prove themselves to Brendan Rodgers next season, with the duo aiming to become regulars in Liverpool's first team.
Ibe and Sterling have both been included in Liverpool's pre-season tour line-up and after a friendly against Preston in which the former scored his first senior goal the trip to the Southern Hemisphere is being treated as a chance to show Rodgers they can stand tall alongside the squad's most senior players.
Ibe received his first call-up to the senior team on the last day of the season as Liverpool played QPR and he says he is listening intently to the manager's instructions as he hopes to build on that in the 2013/14 campaign.
"Obviously I've still got a lot to learn, especially with my defending," he told the Liverpool Echo. "but the gaffer's helping me a lot especially what to do when I don't have the ball. He's showing me how to come to tuck in and watch the full-back and centre-back; knowing what to do when I haven't got the ball.
"Hopefully I can be consistent and play well, so hopefully I can get a chance again in the first team. When I play, hopefully I can get a goal and help the squad do well this season."
"I've scored a lot of goals throughout my career - although not too many last season - and hopefully I can carry on scoring a few more."
The 17 year old winger made the move to Liverpool from Wycombe in 2012 and while he was a signing of Kenny Dalglish, Rodgers clearly has believes the teen can make the smooth transition into Liverpool's senior side.
Another winger who is looking to prove himself next season is Sterling; while the England international had a breakthrough season for Liverpool over 2012-13, he believes that this summer he is starting from scratch as he looks to beat the competition for a first team spot.
While he made 36 appearances for Liverpool last season, Sterling suffered from a thigh injury which meant he had to pull out of the Under 21 Euros and missed the end of his side's Premier League campaign.
But the 18 year old is determined to prove to Rodgers the injury was just a minor setback, and he can come back even stronger.
"There's still a lot of work to be done which I thought I should've done last season only for my injury," he told the Daily Mail. "I'm just looking forward to working hard in training and in games to try and show the manager what I can do to try and cement a place.
"Last season was a good start. The manager gave me the chance to go out on the pitch and show what I can do but then my injury started kicking in and my performances weren't the best. It was obviously taking a toll on me so the manager took me out to protect me.
"It was also to get me ready for the new season. I'm not really thinking about (raised expectations). As young lad I just have to go out there and play my game. People are going to be expecting things from me now but I'm not going to put pressure on myself."