Liverpool defender Jose Enrique has lavished praise on star striker Luis Suarez by comparing him with Barcelona great Lionel Messi.
The Spanish full-back knows just how difficult it is for defenders to stop Suarez as he says he has the same problems in training every single day. Enrique admits that he has still not worked out how you stop the striker despite watching him day in and day out.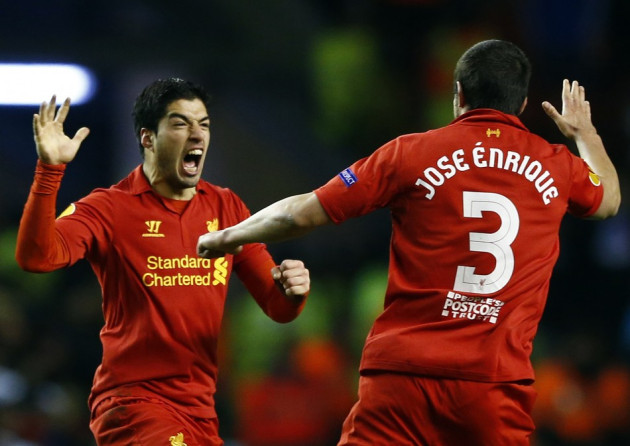 Suarez has been in sensational form this season and currently tops the Premier League charts with 21 goals, but Enrique says it is not just his finishing but his ability on the ball that makes him so dangerous.
While many strikers will only come alive in the box, Suarez loves having the ball at his feet and is a nightmare for defenders with his clever turns , immaculate close control and ability to find a embarrassing nutmeg.
"I tell [Luis] all the time that he always does the same thing - he tries to do nutmegs. It's always 'megs, 'megs, 'megs. And you just know that he is going to do it but you can't stop him," Enrique told the official Liverpool website.
"When you know someone, you can know what they are going to do but he's still a very difficult player to train against.
"He scores so many goals in training. It's like with Messi - everyone says [Messi] is going to cut inside all the time. And you know that he is going to do this but you can't stop him from cutting inside and scoring goals. With Luis [and nutmegs] it's the same. Of course there are some differences between the two players."
Suarez still has some way to go to match the goal scoring feats of Messi, who has already scored 50 goals in all competitions this season, but his influence can be compared as he has become the standout player at Liverpool.
Just like the Barcelona forward, Suarez's influence extends far beyond his goals and Enrique has praised his attitude both in training and during games.
"Luis is a great all-round striker but it's not just about the goals, it's about what he gives to the team - it's about his personality and his attitude," added Enrique.
"He's the same in training as what you see in games. He gives 100 per cent all the time. He never misses training and, touch wood, he has not been injured so far.
"Everyone wants to win - my character is that I don't like to lose at anything - but with Luis, when he loses the ball; he knows exactly how to press again.
"It's amazing, of course, how he scores goals and some of the goals he has scored have been incredible."
Enrique knows that Suarez and the rest of the Liverpool side will need to be in top form this weekend when they face an in-form Tottenham side that has their own superstar in Gareth Bale.
However, with Liverpool scoring 12 goals and conceding just one in the their last three competitive games, Enrique feels as though victory over Tottenham could help spark a late run for a top four place.
"I think we are playing well and we must look to continue like this," Enrique explained. "But Tottenham are also playing well. We made some additions in January, in Philippe Coutinho and Daniel Sturridge, and they have given us a lift because they are two good players.
"The aim for us is to try and win as many games as we can. It's going to be really, really difficult to finish fourth but it won't be impossible. We have to start with a performance against Tottenham because they are one of the teams fighting for the same thing as us."