Liverpool striker Luis Suarez has admitted to diving and simulating fouls in order to win penalties. However, the Uruguayan insisted the criticism he received for a blatant handball and goal in the FA Cup tie against Mansfield Town was unjust.
The 25-year-old forward has been widely criticised for his diving and was labelled an embarrassment by Stoke City manager Tony Pulis, when the former Ajax forward appeared to dive after a legitimate challenge by Marc Wilson and Dean Whitehead. Suarez has now confirmed he did indeed dive in the match against Stoke.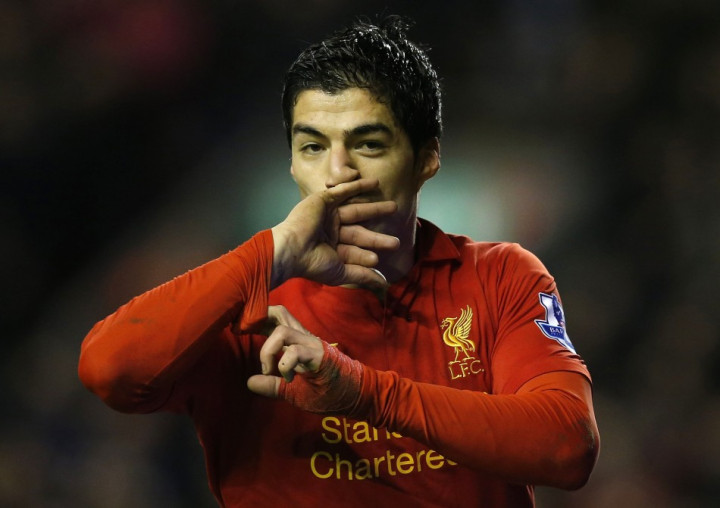 "Let's see, they said that when we played against Stoke, for instance, and in that case they were right. I invented a foul because we were drawing against Stoke and I wanted to win. The other day, for instance, I touched the ball with my hand accidentally, and I was criticized because I kissed my hand [his normal goal celebration]," he explained to Fox Sports Argentina.
Confirmation of diving aside, Suarez also launched an attack at Manchester United for "controlling the media". His words are unlikely to be viewed kindly by Sir Alex Ferguson and Old Trafford, particularly since the Premier League leaders and Suarez have already locked horns on more than one occasion this season.
Suarez was found guilty of racially abusing United left back Patrice Evra late last year and was handed an eight-match ban and a £40,000 fine by the FA. The striker stoked the controversy further by snubbing Evra's handshake in a match between the clubs after the incident. Liverpool's leading goal scorer this season has hit out at what he believes is the unjust treatment meted out to South American players in England.
"When someone says something bad about being a South American, I don't cry, because that happens inside the pitch. I have my conscience clean. But Manchester United controls the media - they are powerful. In England, South ­American players are treated differently to local players," he stressed.
Liverpool have relied heavily on Suarez's 15 goals this season and the striker has led the club to eighth in the league, with 31 points from 22 games. The Reds trail local rivals Everton in fifth, the last of the European competition spots for next season, by six points and play Norwich City, at Anfield over the weekend.