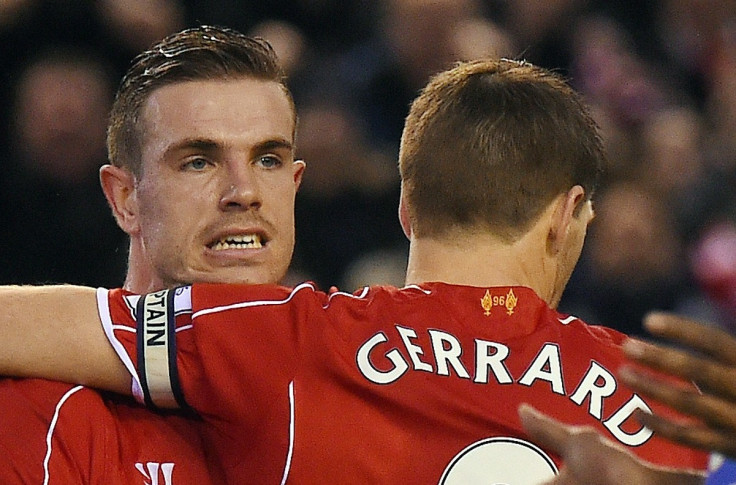 Liverpool manager Brendan Rodgers has indicated Jordan Henderson is in line to replace Steven Gerrard as captain at Anfield.
Gerrard confirmed last week his intention to leave the Merseyside club at the end of the season, with a move to Major League Soccer the future destination for the former England skipper.
The news has sparked debate as to who will replace Gerrard both as captain and as an inspirational figure at Liverpool but Rodgers says the club have a candidate ready-made for both roles.
"Yes," Rodgers responded when asked about whether Henderson could replace Gerrard. "It was one of the reasons I made him vice-captain.
"He has got no greater captain to learn from. That was the idea of putting him in that role and seeing Jordan being here for a number of years.
"I think he saw Steven as a great example anyway before he was vice-captain but certainly, in that vice-captain's role, it would give him pole position in terms of learning from a great in how he behaves, how he works, on and off the field.
"So when that day came that Steven would move on, you have someone there who is a different sort of player of course, but someone who can then offer that wisdom and knowledge throughout his years here.
"That is something I know he is very keen on and he has been learning from Steven."
Though the England international represents the low-cost solution to Gerrard's departure, with LA Galaxy the likely destination for the 34 year old, former Liverpool defender Jamie Carragher has suggested the club raid Everton for midfielder Ross Barkley.
In a tongue and cheek message on Twitter, Carragher wrote: "Enough of Gerrard now he's leaving. Replacement has to be Ross Barkley offer 10 million go to 12 tops job done."