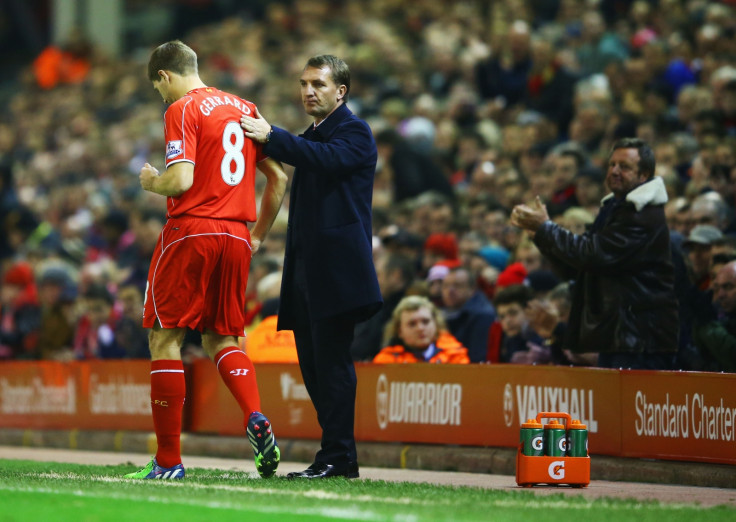 Liverpool star Steven Gerrard has admitted that the conversation he had with his manager Brendan Rodgers was sufficient for him to leave Anfield.
The 34-year-old has already announced his decision to leave the Merseyside club when his contract expires at the end of the season. The Reds manager earlier confirmed that Liverpool had offered the midfielder a new deal.
Gerrard retired from international football – following England's poor run in the 2014 World Cup in Brazil – to focus on his club career. However, things did not go according to the plan for him as he saw his playing time being reduced this season.
The Anfield favourite admitted that he was concerned with lack of playing time at Liverpool, which convinced him to end his career at his boyhood club.
"I think the key conversation or moment was with the manager when he sat me down not so long ago and said it was time to manage my games for me and for the team," Gerrard told the Daily Mail.
"I'm bright enough to realise it is the right thing for everyone, but when you've been a starter and a mainstay in the team for such a long time, it was a very difficult conversation to have."
"I accept it and I'll continue to give everything I've got, whether I'm starting, coming off the bench or whatever, but that was the key conversation that swung me to deciding to come away for a short while."
"The reality is I am going to be 35 in the summer. I've been here for a long time, I've been coming to this training ground since I was eight. I always knew it was going to end one day and that it was going to be an emotional decision. That decision is here," he added.
Gerrard will leave Liverpool after spending 17 years at the club. He has been instrumental in the Reds' success over the years and Rodgers will have a tough task in finding a replacement for the Anfield legend.