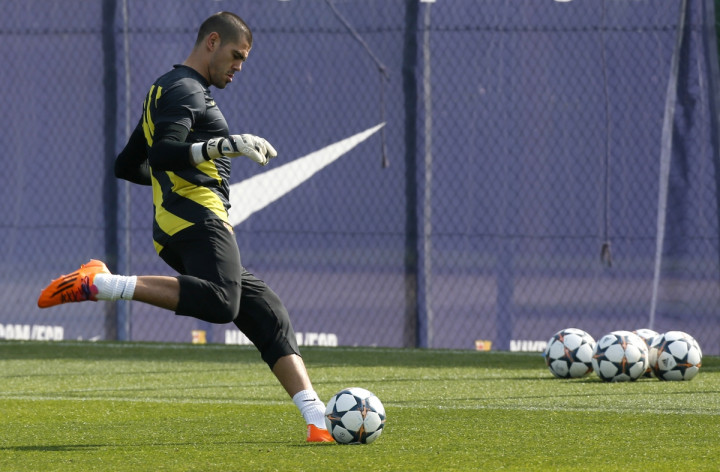 Liverpool manager Brendan Rodgers has ruled out the possibility of Victor Valdes joining the club in the coming months.
The former Barcelona goalkeeper is currently a free agent after leaving the Nou Camp in the summer having failed to secure a move to Monaco.
Simon Mignolet's unconvincing form this season has fuelled reports that Rodgers is keen to augment his squad with the experienced Spaniard.
Valdes' agent recently dismissed claims the goalkeeper had rejected the opportunity to undergo a trial with the Merseyside club and speaking to Spanish daily AS, Rodgers has ruled out his arrival, simply stating 'no' when asked if there would be any more Spanish arrivals ahead of the January transfer window.
Valdes, who left Barcelona after 12 years this summer in order to take on a new challenge, is yet to find himself a new club despite his wealth of experience.
He appeared to be on the brink of becoming Monaco's latest marquee arrival during the summer but the club's concerns over the anterior cruciate ligament injury which ended his World Cup hopes last season saw them pull out of the deal.
Sunday saw Liverpool edge past Queens Park Rangers in a narrow 3-2 win, where their defensive concerns were further exposed. They are likely to be further tested when Real Madrid visit Anfield in a Champions League group clash on Wednesday, and Rodgers admits the pace of the competition holders poses a great risk to his side.
"They are as strong a team as they have been for many years," Rodgers said of Real. "They have everything, big experience, big players, speed, technique, they have a fantastic team and a great manager in Ancelotti, a good man who works with players and who is a good person.
"They are the reigning champions as well and they will want to defend their title.
"They have amazing talents all over the field and as you say they have the technique to play in small spaces and when the space opens up there is no one better on the counter attack because in Ronaldo and Bale, they have two players that could be in the Olympic 100m final."