The supporters have come out in droves for Luis Suarez once more, after the Liverpool striker was treated harshly again by the referees in the Reds' match-up with Manchester United on Sunday.
As contact came about with Jonny Evans in the box, Suarez fell, and rolled around at least two times flailing his arms around and screaming that the ref must have seen what he felt on the side of his foot.
But no penalty was not given, and play continued. Meanwhile down the other end of the pitch Antonio Valencia was handed a penalty after a tackle that from different angles, showed little to no contact at all.
Liverpool fans, players and even Brendan Rodgers all had rights to feel aggrieved over the lack of support for Suarez on the field on Sunday, and Rodgers insisted that his star has been a marked man in multiple matches.
"You see it in the modern game, across the board, a number of players go to ground too easily and they get their rewards sometimes," he said after the United match.
"If you look at Luis last week away at Sunderland he goes down, there is contact but he gets booked for it then yesterday he didn't get it."
But if Rodgers is correct, why exactly is it that Suarez is being targeted by the men who call the shots on the pitch?
What he did as Evans scraped his foot on Sunday was not diving in the traditional sense of the term; there was contact, and therefore it could have been ruled a foul. But the fall afterwards was definitely an exaggeration of the pain he would have felt over the incident, and the rolling on the ground would have been seen by the ref at the very moment he was deciding if the contact was high enough to award the penalty.
Trying to fool a referee is an action that will no doubt draw attention to a player. Refs can try to be as unbiased as possible in their decisions, but the plain fact that we often don't like to face is that they are human, and if someone is treating them like a fool the only natural reaction is to come back with a hardline ruling, that can leave the player coming out without much support on the field.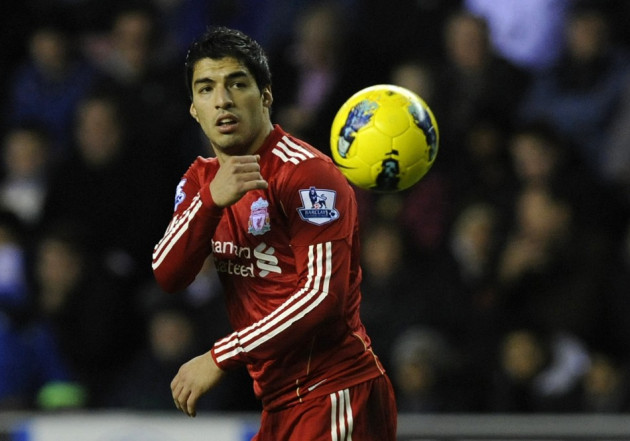 In contrast, United had a similar problem with Ashley Young last season when the winger dived to garner two consecutive penalties. Talk was had that he would be targeted by the refs, and after he tumbled against former side Aston Villa, Newcastle's Ryan Taylor said he was the biggest cheat in the league.
How did United deal with the problems? Sir Alex Ferguson was honest and frank about it, and said he spoke Young on what he was doing to correct the problem.
"I've had a word with Ashley," Ferguson said. "He understands where we come from and hopefully it makes a difference. The only fault is that Ashley went down too easy, but it was a penalty kick, absolutely no doubt about that. It was a clear goal-scoring opportunity.
On the penalty at Villa, Ferguson said Ciaran Clark "caught him, but Ashley did overdo the attempt to get a penalty kick. I'm not sure he actually tried to get a penalty, but he certainly went down quickly."
Liverpool's continual attempts to fight the label that Suarez has been given as a diver will prove ineffective. If anything they are making it more obvious to referees in the future to keep an eye on the striker's moves on the pitch.
His exaggerated simulations after the contact takes place are what need to be dealt with, and Rodgers has so far only made some hint at talking to the player about his actions, seemingly more to do with him has so many bookings now (including for diving against Sunderland last week) than because he's bringing a negative reputation onto himself.
Liverpool have a long history of defending Suarez against seemingly indefensible situations; when he lost his head against Fulham fans at Craven Cottage, Kenny Dalglish brought into question whether fans should be allowed to chant at the opposition, to explain why the striker made obscene gestures to a group of fans who are seen as some of the least confrontational in the Premier League.
The racism scandal with Patrice Evra will be an endless cause of ongoing insults from Manchester United and Liverpool fans to one another and the journalists who report on the subject, but Suarez still freely discusses the incident without fear of his club sanctioning him, going so far as to claim just two months ago that United had a political conspiracy against him.
Suarez is a figure who for the rest of his Premier League career perhaps, will be a trigger for abuse, support and division perhaps not unlike John Terry.
And while Liverpool have often had their backs against the wall over their leading goalscorer, perhaps it's time the side made Suarez aware that right or wrong, his reputation will continue to be their undoing unless he changes elements of his play.