Both Manchester United and Liverpool are chasing star playmaker Nicolas Gaitan, according to reports in Portugal, with the Benfica man seen as being able to bolster both sides in the January transfer window.
Gaitan was the subject of a great deal of transfer talk over the summer, though when deadline day came to a close he stayed at Benfica.
His exit clause is worth around £40 million, according to Portuguese newspaper Abola, and both Liverpool and United are keeping tabs on him despite his sky-high price.
United are in need of more support throughout the midfield, with the club having relied on Paul Scholes on many occasions this season already as they struggle in the middle of the park.
Scholes has been a shining light for the squad since making a return to Old Trafford from retirement last Christmas, but at 37 years of age he cannot be relied on to handle playing across four competitions for the entirety of the season.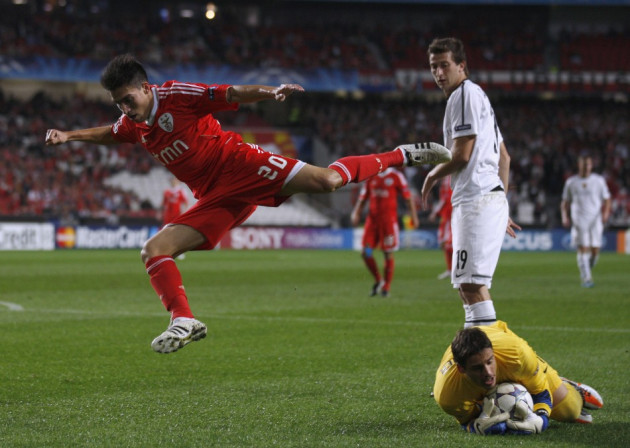 Gaitan would no doubt be able to provide a great amount of assistance in the midfield, but whether Ferguson would be willing to spend £40 million to bring him to United is a big ask.
And to an even bigger extent, Liverpool would have trouble finding the cash to land Gaitan, particularly after failing to land Clint Dempsey on deadline day for a much more modest £6 million.
Working in both the clubs' favours is that players often don't actually leave clubs for the full amount of their exit clauses. Highly sought-after target Hulk, for example, reportedly had a £85 million clause in his contract at Porto, but he moved to Zenit St Petersburg for £39.5 million in the end.
The question could simply come down to whether Gaitan prefers the idea of joining United or Liverpool, and with the Red Devils able to offer immediate success and Champions League football, Brendan Rodgers will need to work hard to show the 24 year old he'll be happy enough at Anfield to snare the star from his rivals.