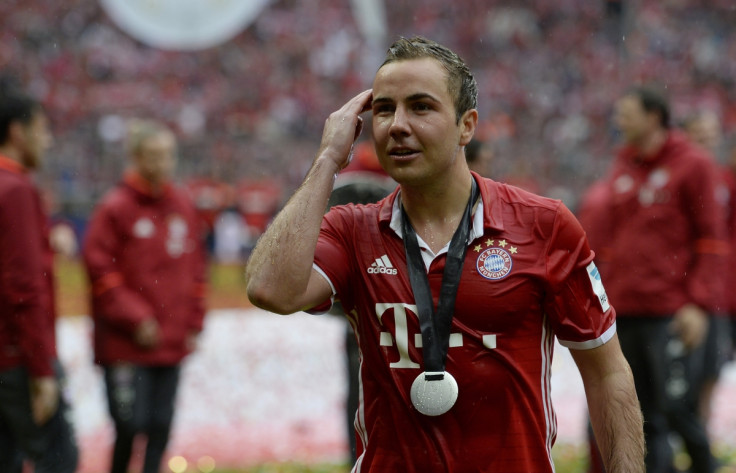 Franz Beckenbauer has encouraged Mario Götze to follow in the footsteps of Jürgen Klopp as he continues to be linked with a switch to Liverpool. The Bayern Munich playmaker, who scored an extra-time winner for Germany in the 2014 World Cup final against Argentina, may well have played his final match for the reigning Bundesliga champions after netting a brace in yesterday's (14 May) 3-1 home win over Hannover 96.
Götze joined Bayern from title rivals Borussia Dortmund two summers ago, but has struggled to hold down a regular starting berth due to strong competition for places under Pep Guardiola. The 23-year-old started just 11 league games in 2015/16 and has been the subject of constant speculation suggesting that he could be set for a move to the Premier League.
Liverpool are still believed to hold a strong interest in the player. The Times reported earlier this week that his representatives are engaged in long-running discussions with the club, who are willing to make him one of their highest-paid players amid renewed competition from Dortmund.
Götze evidently retains a strong relationship with Klopp dating back to the latter's seven-year stint in charge at Signal Iduna Park, and Bayern icon Beckenbauer feels that such a switch could prove beneficial.
"I would, in his place, go to a place where I feel comfortable," he told Sky Germany. "I have the impression that Mario has not felt right in Munich and also has not been understood, so that he could show his full potential. I would in his place go where I am comfortable and follow in the footsteps of Jurgen Klopp."
Despite the club winning an unprecedented fourth consecutive title by a 10-point margin, there will be significant changes at Bayern over the coming months with Carlo Ancelotti set to succeed Manchester City-bound Guardiola in July. Munich daily Suddeutsche Zeitung claims that the new manager told Gotze in a phone call that it might be better for him to seek pastures new during the next transfer window.
Responding to those rumours, the £20m-rated ($28.7m) German international told Bild: "I don't know how someone found out about the phone call. I did not know anyone was listening in. There are only a few people who know what we discussed. They know what was said and that is enough. There's nothing more to it.
"We won the Bundesliga and I have won my fifth league title. I am mainly happy about that. I have a contract until June 2017 and we have an important game coming up against Borussia Dortmund. I can only vow to give my all in the DFB-Pokal final. I can't make any promises about next season. I have an ongoing contract and we will see what happens."