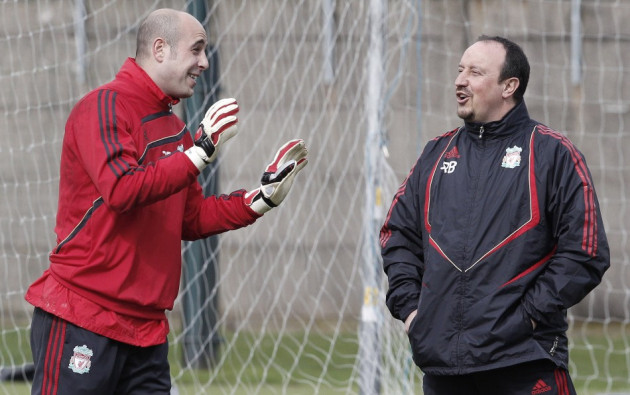 Napoli manager Rafa Benitez has revealed how surprised he was to learn that Liverpool were willing to allow goalkeeper Pepe Reina to leave the club.
The Spanish keeper has been reunited with Benitez at Napoli after Liverpool agreed to let him leave on a season-long loan, with manager Brendan Rodgers confirming that it was important to get one of the highest earners off the wage bill.
Reina has since suggested that the deal was struck without him being informed, and now Benitez has revealed how surprised he was to learn that the Reds would be prepared to let him leave.
The former Chelsea manager admitted that his initial target had been Queen Park Rangers number one Julio Cesar, but once he learned that Reina was available he was quick to conclude a deal.
Asked if he was shocked to learn that Reina was available, Benitez explained: "I was surprised as I was trying to sign Julio Cesar, so I was surprised that Pepe Reina was available. For us it's a big boost, it's really important as he's a great player.
Benitez was then quizzed on whether he felt Reina had any problems with Liverpool after they replaced him with Simon Mignolet.
"He has a lot of respect for the club so I was talking with him about that, but he was surprised because nobody told him about the decision. He has a good relationship with the fans and with the club so I don't think he has any problems with him."
Napoli have been strongly linked with a move for Liverpool centre-back Martin Skrtel but the 53 year old refused to comment on any transfer speculation as he looks to build a side capable going one better than their second placed finish last season.
Benitez confirmed that new striker Gonzalo Higuain would feature against Arsenal in the Emirates Cup but it is unlikely the Argentinean would play the full 90 minutes after only arriving at the club late last month.