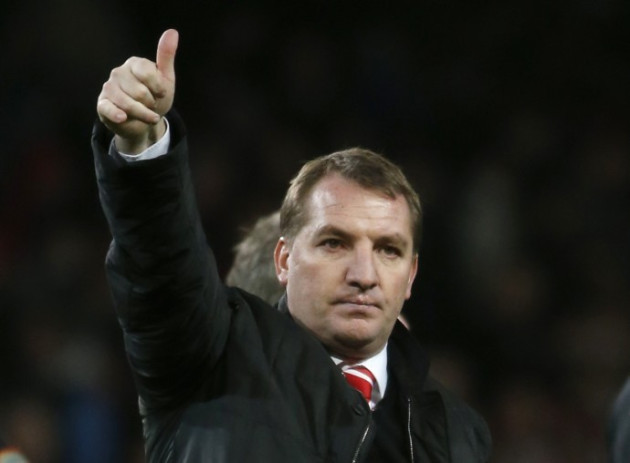 Liverpool manager Brendan Rodgers insists that he is not thinking about winning the title but believes that anything is possible if they can keep clear of injuries and continue this form till the end of the season.
The Reds are currently second in the Premier League, only two points behind league leaders Arsenal and know that a win against Cardiff next weekend will see them go top of the table, albeit for the time being. The Merseyside club smashed Tottenham Hotspur 5-0 at White Hart Lane with a brace from Luis Suarez to make it an embarrassing affair for Andre Villas-Boas.
Rodgers achieved the result without the presence of stalwarts by the likes of Steven Gerrard and Daniel Sturrdige, who should be back after the New Year. However, they have two high profile fixtures coming up against Chelsea and Manchester City before the end of the year, something which will define their title credentials in the long run.
"I'm not even thinking about that, to be honest. My job was to try to develop the style of football, whilst moving the club forward. What we've tried to do is move every aspect of the club forward. Obviously you dream and I didn't come here to be fourth or third or second - eventually you want to win, but you've got to be realistic as well. Last year we were seventh," Rodgers said.
"If we can stay clear of injury and just continue to improve our football and what we're trying to do, let's see where it takes us," he added.
The manager also praised Luis Suarez for his performance, who was handed the captaincy band in the absence of Gerrard.
"He has captained one of the most iconic clubs in European football, in Ajax - so it's not new to him. With the players that were out, what I wanted to do was have someone who could represent me and the club in that tunnel, before we even step onto the pitch," Rodgers explained.
"When Luis Suarez has the armband on and is stood waiting to go out, everybody knows this is a team that is ready to fight. He was great in the changing room, I think he enjoyed it. I spoke to him a few days back, saying that I wanted him to lead this club, one of the biggest clubs in the world, and it's an honour for him to do it," he concluded.