Liverpool's Brazilian midfielder Lucas Leiva is set to make his 200th appearance for the club, in Monday night's fixture against West Bromwich Albion. Ahead of the landmark occasion, first team coach Mike Marsh has praised Lucas' mental strength and stressed his importance to the team.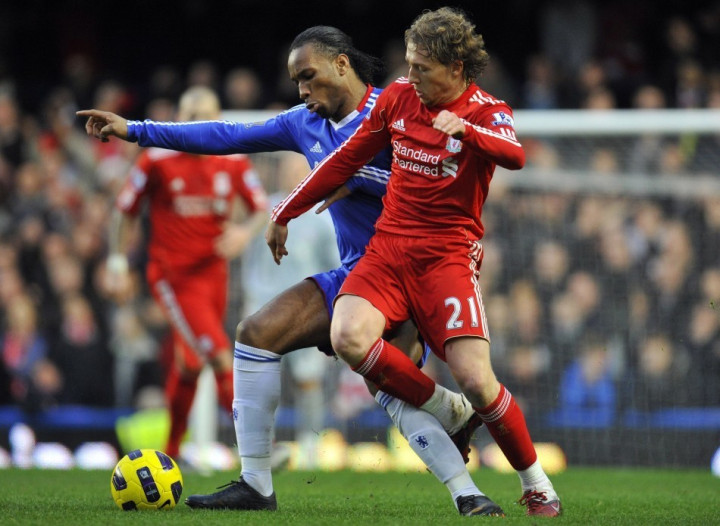 "We all know that Lucas didn't have the easiest of starts to his career at Liverpool," Marsh told the club's official Web site, "but he responded really well, got himself in the team and was named Player of the Year a couple of seasons ago. He's shown a great deal of character."
Lucas has been sidelined with injury for much of the last two seasons, having returned to action only in December. The Brazilian defensive midfielder is beginning to show signs of returning to his pre-injury form. Liverpool fans will be hoping Lucas remains at the club for many years to come, with the former Gremio captain providing the Reds' with much-needed solidity in midfield. Marsh emphasised the impact Lucas can have on a game.
"He offers us a great deal of stability and he's fantastic at protecting the back four," Marsh explained, "We also realise he is an offensive player when he's on the ball and picks out some great passes. He's balancing the side out quite nicely at the moment."
Liverpool manager Brendan Rodgers also recognises the importance of Lucas to Liverpool's progress. The Northern Irishman made it a point to assure Lucas of his involvement going forward because, as Marsh explained, his influence extends beyond the field.
"Lucas is by no means a veteran," he said, "He's 26 and has got a lot of games under his belt, but you can see the young lads look up to him. He's an important factor in the team, not just because of the way he plays, but also how he conducts himself around the place."
One such player is Jordan Henderson who, much like Lucas, has won fans over after initial concerns over his ability. Henderson revealed how Lucas was a mentor through tough times and how his advice was priceless in helping him cement his in Rodgers' midfield.
"There were one or two who weren't convinced he (Henderson) had the right credentials to play for Liverpool at the level he is, but like Lucas, he's shown everyone if you work hard enough at your game in training and take that into a game, the fans will take to you," Marsh concluded.