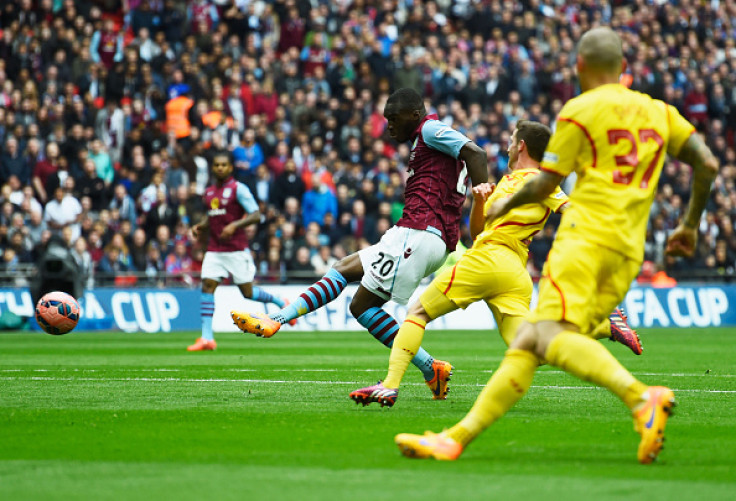 Jamie Carragher believes Liverpool's latest summer signing Christian Benteke would have been a right fit at Chelsea.
The 24-year-old completed his move to Anfield from Aston Villa in a deal which saw the Reds match his £32.5m release clause. He joined the Midlands club in 2012 from Genk, scoring 49 goals from over 100 appearances.
The Belgium international excelled under the guidance of Tim Sherwood in the second half of last season. The Villa manager suggested that their style of play, where they feed the crosses to him suited the striker.
Brendan Rodgers prefers short and sharp passes, rather than crossing the ball from wide positions. The former Liverpool defender has doubts whether Benteke can fit into the former Swansea manager's philosophy at Anfield.
"I like him as a striker and actually think he would be great for Chelsea. Jose Mourinho likes that profile of forward and sets his teams up to get the best out of them," Carragher told the Daily Mail.
"My worry at Liverpool is, will he be suited to the short, sharp and incisive passing game that Rodgers favours? Brendan wants his side to play through teams, rather than getting the ball into him from wide areas, a fact Tim Sherwood pointed out as soon as Liverpool's interest became public."
"Parallels have already been drawn with Andy Carroll and people have pointed out that Rodgers wasted no time in getting rid of him but that decision had nothing to do with the fact that Carroll was a big man. It was purely down to him lacking pace and movement."
"Those are qualities Benteke does not lack but his biggest problem at the moment, where a lot of Liverpool fans are concerned, is that they know him. He would have liked the welcome that Firmino has received, but in a few months a warm reception will count for nothing."
"All that will matter is how many goals they have managed to score. That alone will determine how popular they become," the Anfield legend concluded.
Meanwhile, Carragher has warned Reds faithful about another summer signing Roberto Firmino. The Liverpool legend says the chances of the Brazil international becoming a new Luis Suarez are just as high as him being another Alberto Aquilani.