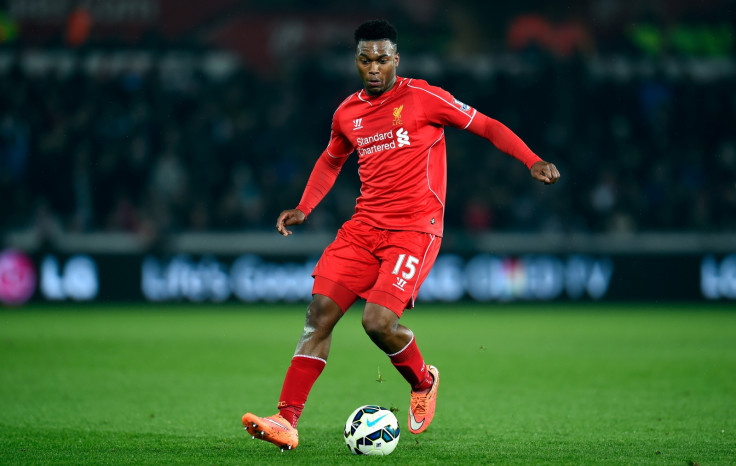 Liverpool striker Daniel Sturridge has insisted a top-four finish is a realistic goal for the club as they prepare for their crucial upcoming clash against Manchester United.
The Reds head into the match at Anfield on 22 March against their fiercest rivals perched fifth in the Premier League, just two points adrift of manager Louis van Gaal's side as both clubs jostle for supremacy in what is shaping up to be a particularly tense race for Champions League qualification.
An alarming regression in form earlier this season caused supporters and pundits alike to doubt Liverpool, who came agonisingly close to winning the title last season largely thanks to the superb form of controversial striker Luis Suarez, were capable of securing a place in Europe's elite club competition for the second year in succession.
However, a fine run of 13 league fixtures without defeat and five consecutive victories has helped to considerably narrow the gap on the likes of United and Arsenal, and Sturridge claims securing a top-four finish is now the squad's sole objective moving forward.
"It is important to secure fourth place and then from there look on," the 25-year-old told Liverpool's official website.
"To finish in the top four is realistic for us, it's what we're aiming to do, and if we can get higher than that then perfect. But finishing in the top four is the objective and that's the most important thing for us. It's not about aiming for anything other than that now.
"If we can finish in the top four, then we can push on and challenge for the title again next season. I think top four is definitely possible for us."
Mixed season for Sturridge
Much like Liverpool manager Brendan Rodgers's side as a whole, Sturridge has endured a somewhat mixed 2014-15 campaign to date.
The former Manchester City and Chelsea forward, who scored 21 goals in the top-flight last season, has been limited to just 10 Premier League appearances so far this term due to thigh and calf injuries that kept him sidelined for a total of five months as Liverpool toiled prior to the festive period.
While he has now returned to the starting line-up, Sturridge will hope to improve on a relatively meagre return of two goals in his last nine appearances when Manchester United visit Merseyside. Van Gaal's men are full of confidence following a dominant 3-0 victory over Tottenham Hotspur that has been subsequently hailed as one of the club's finest performances since the retirement of Sir Alex Ferguson.
Indeed, some, including former Liverpool captain Dietmar Hamann, have even suggested Rodgers might be wise to retain Sturridge as an impact substitute for the match and instead deploy fellow England international Raheem Sterling in a central role in a similar system to the one used during the impressive win over Manchester City earlier in March.