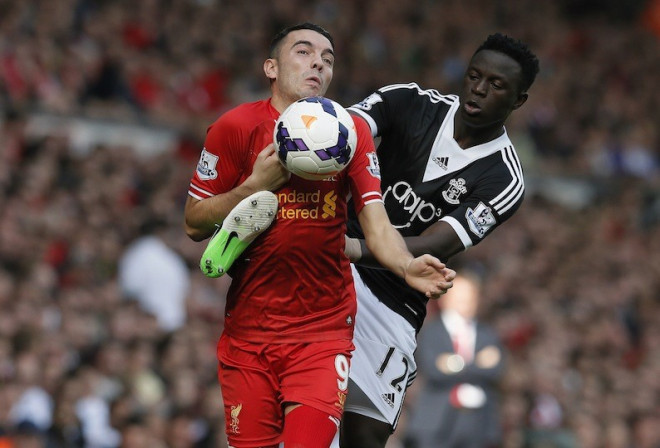 Liverpool's summer signing Iago Aspas has expressed his frustration about being overlooked in an interview with IBTimes UK, claiming that sometimes he doesn't understand why Brendan Rodgers refuses to use his substitutes.
The 26-year-old joined the Merseyside club in a £7.7m transfer from Celta Vigo after excelling in La Liga. However, he is struggling to replicate that form at Liverpool, having started just five Premier League games.
Aspas complained about the lack of game time enjoyed by Rodgers' substitutes, saying: "My colleagues are playing great [Luis Suarez and Daniel Sturridge] but I think the boss could give more minutes to the substitutes, especially when we are winning 3-0.
"We are playing three games a week and sometimes I don't understand that the strikers play the three games the entire 90 minutes when there are other players. I don't understand why he (Rodgers) made so few changes.
"For example, when we are winning 5-0 against Tottenham you think 'make a change' because he still has the option to make three changes'"
Furthermore, Aspas believes that he hasn't had the chance to prove his worth, as in his few chances he has been deployed as a playmaker even though he is a striker by preference.
"I started the preseason very well, playing as a number nine, but during the season I began to play as a playmaker, where I don't feel comfortable. I think that is what has stopped me showing my potential.
"The only game that I have played as a number nine this season, in the FA Cup [against Oldham] I scored. In the rest of the games I have not played up front and this is very difficult.
"Where I exploded in the last two, three years at Celta was as a striker. I scored around 45, 50 goals. The Premier League is very physical, I got the ball in the playmaker position and the defenders and midfielders do not stop. It is not if I play as a number nine, where I have space to run."
"Rodgers signed me to play all around up front because in summer we didn't have a fixed system, but I made it clear that where I feel comfortable is playing as a striker. I was the top scorer in the preseason in that position, when Suarez was still on holidays and Sturridge injured."
Asked whether Rodgers has explained his situation, Aspas said: Yes, he always encouraged me, especially in training and in matches when I play just 10 minutes.
"He said that he undersands my situation but that he cannot do anything when he has two strikers who have scored 50 goals. I hurts but I also understand that. If I were in their situation [Suarez and Sturrdige] it would bother me to be replaced when they deserve to play."