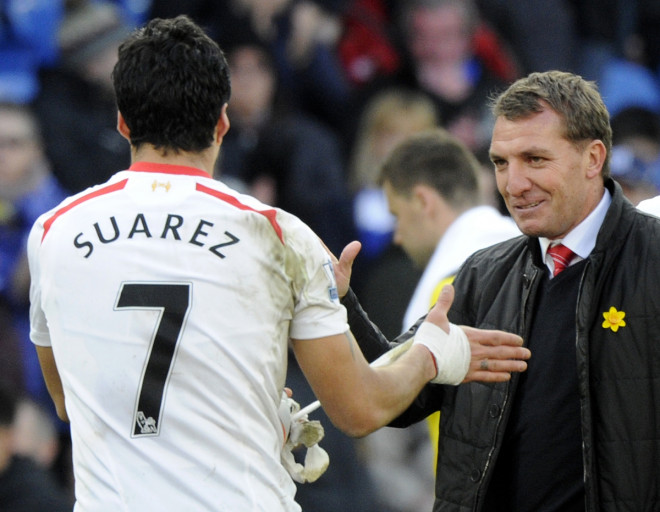 Liverpool star Luis Suarez has praised Brendan Rodgers' attacking ambition in the transfer market having seen his manager bring in players who have instantly complemented each other at Anfield.
The Reds' title charge was handed a huge boost on Wednesday as relegation-threatened Sunderland held Manchester City to a 2-2 draw at the Etihad Stadium.
With Liverpool still to host Chelsea on Merseyside in the coming weeks the club can claim their first league title in 24 years should they win their remaining four games, having already amassed a spectacular run of 10 straight victories.
The relentless goal scoring form of Suarez and Daniel Sturridge has helped deliver the club to such a position with 49 league goals between them but have also been supplemented by the contribution of Raheem Sterling and Philippe Coutinho, both of whom stepped up in the club's win over City on a rare goalless afternoon for the two strikers.
With the club's resurgence on the brink of completion, Suarez has paid tribute to his manager for compiling an array of attacking talent who work so well together.
"During the second of last season the team began to work very well and that has continued this year," Suarez told Liverpool's official website.
"There are a lot of creative players in the squad who can produce great passes so that obviously helps us.
"The manager has brought in players who complement each other very well."
Despite his side sitting two points clear of second placed Chelsea with just four games remaining, Rodgers has been quick to quell talk of a first Liverpool title since 1990.
Uruguayan international Suarez agrees with his manager's approach and has praised his temperament that has been with the club through their rise to the summit of English football.
"It is very important to see the manager relaxed. Brendan gives us all confidence because he's good at his job.
"He believes in all of the squad and when you have that belief from your boss then it is easier to perform at your best."