Liverpool are facing a fight to keep hold of Daniel Agger in the summer, reports claim, with the defender the subject of interest from Barcelona as he goes from strength to strength with his current side.
The Reds are currently undergoing an overhaul under Brendan Rodgers, as they look to go from a mid-table side to challenging for domestic and European trophies once more.
While the side have worked on their attacking line-up over the last nine months, having positive discussions with Luis Suarez over his future and bringing in Daniel Sturridge and Philippe Coutinho, the Merseyside club look set to work on their defence when Rodgers is given a bigger budget this summer.
Jamie Carragher is set to retire, and according to the Mirror, Agger is fielding interest from Barcelona as a long term replacement for Carlos Puyol.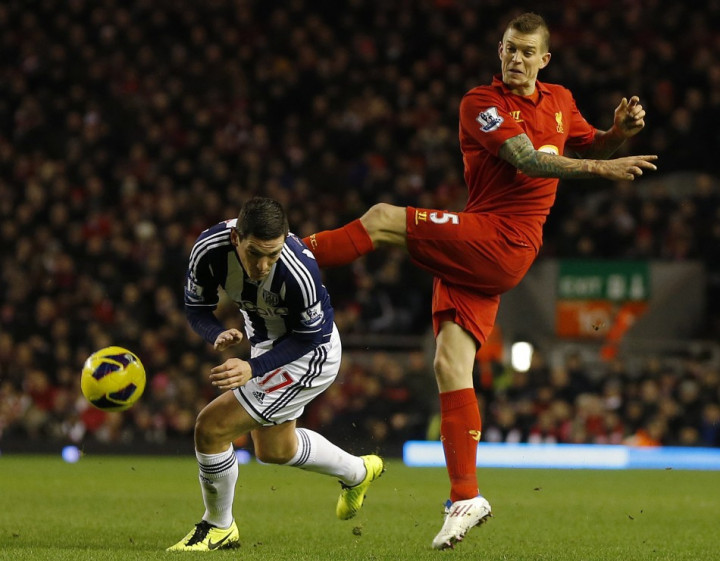 Liverpool are set to fight to keep hold of the 28 year old, as Rodgers looks to make a host of changes to his current line-up. The sale of Andy Carroll which looks inevitable will help fund some of the purchases for the club, along with more money handed over by the owners.
And with Martin Skrtel and Sebastian Coates both also being connected with exits, the defence will be a huge point of improvement for Rodgers without Agger moving for greener pastures.
Agger said last week that he believed Liverpool were improving and showing they can be more consistent, as they aim for success in the league again.
"We are finally starting to show some consistency and that's what we need," he told the Liverpool Echo. "It's vital we keep playing this way and try to get as high as possible in the league.
"When you play for a club like Liverpool you have to be on top of your game every week.
"What is the target for us now? I think we've all agreed that we only look at one game at a time. Our focus now is on Tottenham.
"But only having one game each week for the rest of the season should help us. When you have less games it's easier to recover between matches and that's important.
"We should be finishing this season strongly. There's still a lot to play for."
But should Barcelona, who are on the cusp of with La Liga and are firmly entrenched in Champions League competition, make an offer, he would be hard pressed to say no to a move.