Liverpool forward Fabio Borini's agent has dismissed rumours the Italian is close to joining Fiorentina.
The 21-year-old, who arrived at Anfield in a £11m switch from Roma over the summer, has returned to fitness only recently following a lengthy spell on the sidelines. Reports from Italy linked the player with a move back to the Serie A, stating Fiorentina director Daniele Prade was in advanced negotiations to snap up the former Chelsea man.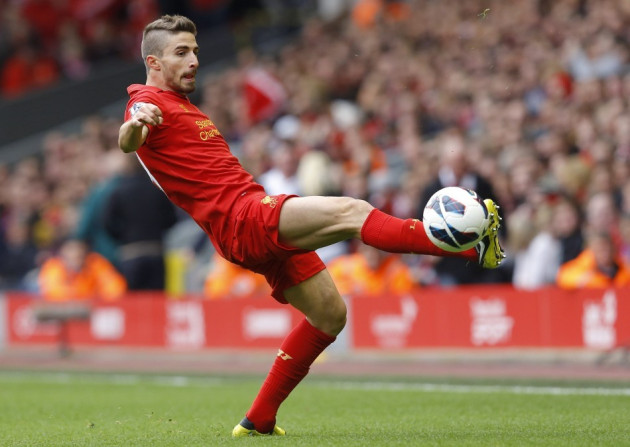 However, Borini's representative, Marco De Marchi, insists there is no truth in those reports and also revealed Fiorentina did not make an approach for the youngster.
"I have never been contacted by Fiorentina and I have nothing to suggest they are interested. Fabio is happy to play for Liverpool, one of the most prestigious clubs in the world, and is happy with his experience in the Premier League," Sky Sports quoted De Marchi as saying.
"A return to Italy? Fabio is 21 years old and has already changed teams five times. He is tied to Liverpool until 2017," the agent pointed out, "If the reported interest from Fiorentina is true, then we should thank them as they are a club that has focused on the nurturing of young talent, but I haven't discussed this with Fabio. He is just back from an injury and his season starts now. His mind is wholly focused on Liverpool."
Borini was Brendan Rodgers' first signing for the Reds, after the Northern Irishman took charge at Anfield in the summer. They have worked together previously - at Chelsea and also during the player's loan spell with Swansea City in 2011.
However, the Italy international, who netted 10 times from 26 matches for Roma last season, has struggled to adjust to the Premier League, managing just one goal in 14 appearances in all competitions.
With Liverpool adding English forward Daniel Sturridge and Brazilian playmaker Phillipe Coutinho in January, Borini now faces fierce competition to earn a place in Rodgers' attack.