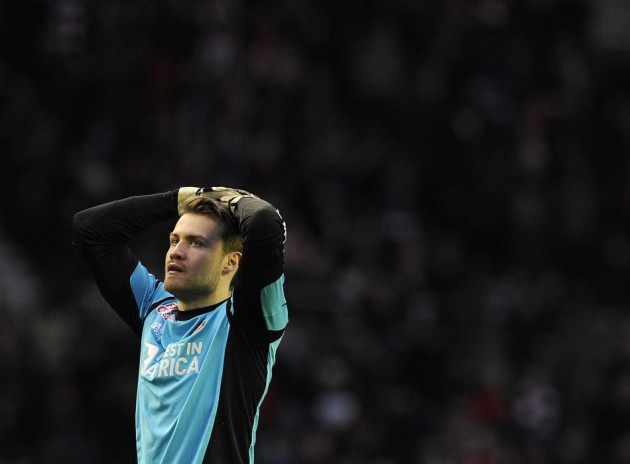 Simon Mignolet is due to have a medical at Liverpool today, with the club set to confirm the signing of the keeper in the next 24 hours.
Mignolet has been somewhat of a surprise signing for the Reds, with Brendan Rodgers continually insisting that Pepe Reina is the side's undisputed number one. But both Reina and Rodgers have said that Mignolet is coming in to provide healthy competition for the Spaniard, who has been connected with a move back to Barcelona.
Mignolet has become a top Premier League keeper in his time at Sunderland, but the stopper admitted when the season came to an end that the relegation battle wasn't an enjoyable one.
He has since been connected to both Liverpool and Arsenal but the Reds pulled clear of their rivals and now look to have built some serious depth in their keeping department.
The Liverpool Echo claims that Mignolet is set for his medical today, with the deal believed to be worth around £10m.
The Belgium international will break Liverpool's record spending fee on a goalkeeper, with £9m being paid outright to Sunderland and £1m in add-ons. The contract will be for five years giving Mignolet a massive chance to step up for a side hoping to qualify for Champions League football next season.
The move will no doubt leave Reina in a precarious position and Liverpool will need to find a balance between two of their top keepers, which will be made all the more difficult by the fact that they can't offer European football next season.
The Sunderland Echo claims that Liverpool have promised Mignolet he will be their number one keeper and with the 2014 World Cup coming around, the 25 year old will have insisted on game time to showcase his skills in order to receive selection.
The paper reports that Rodgers has informed Reina he will start next season on the bench, with the club hoping that this will push the 30 year old to look elsewhere as he plans his future, despite insisting publicly they are happy with the star.