Luis Suarez has given Liverpool fans something to cheer about after an uneventful transfer deadline day by revealing he will remain at Anfield beyond the end of this season, even if Brendand Rodgers' side do not qualify for the Champions League. The news is expected to pour cold water over Pep Guardiola's attempts to sign the striker, after the Catalan takes charge at Bundesliga side Bayern Munich in the summer.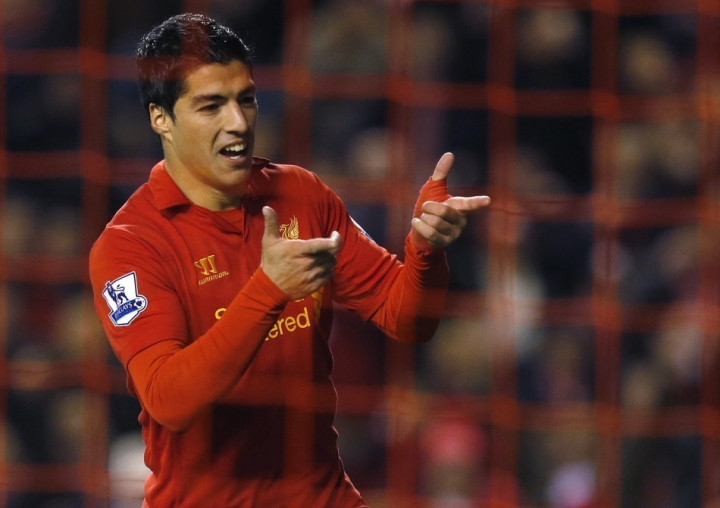 "I will wait until the end of the season and see how we are doing. We won't know until then how we are doing and what our position is so I am prepared to wait until that time. But I want to say now that, if you want to know what will happen to me if we don't qualify for the Champions League, then I will say this: I have a contract with Liverpool and I am very happy here. I will stay," the Uruguayan said.
Suarez has already scored 17 goals for Liverpool in the Premier League and is second only to Manchester United's Robin van Persie, who has. The striker has gathered praise from Rodgers, who has compared him to Barcelona ace Lionel Messi. The Reds' captain and legend Steven Gerrard regards the 26-year-old as the best center forward he has every played with in his career.
"I get goose pimples when I hear he said that," said Suarez, "In my country, we call it Carne de Gallina. Like the skin of a chicken. That's how I feel. Gerrard is such a good player and what he said about me I will never forget. It's unbelievable. He has such a good record over many years in the English game and is a great example to all the players here, especially to me. We all respect him. He has won almost everything and if anything goes wrong on the pitch he never tells the players off. He just speaks to them afterwards and when he speaks to them you can take it as a fact that he is right. He is just trying to help people."