A huge rush for tickets from Liverpool fans for the Europa League final showdown between the Reds and Sevilla in Switzerland has sent ticket prices soaring, a report says. The average price of an open market ticket for the showpiece event at the 38,000-capacity St Jakob-Park in Basel on 18 May is £550 ($790; €695) — nearly 160% more than the average price of a Europa League final ticket over the preceding four years.
The cheapest ticket available for purchase on ticket-selling website Ticketbis as of 12 May is £748, with VIP tickets on sale for as high as £30,200.
"Despite English teams not doing so well as the Spanish clubs in Europe of late, they still generate a larger demand for tickets," said Ander Michelena, chief executive of Ticketbis.
"If we consider the last five Europa League finals, you'll see that the most expensive prices are found for the matches that involve two Premier League teams, Chelsea and Liverpool."
'Ludicrous decision'
Uefa's choice of St Jakob-Park as the venue for the final has come in for heavy criticism, with both Liverpool and Sevilla only allocated 9,000 tickets each for the showpiece occasion.
The Merseysiders have been offered an extra 1,600 tickets by Uefa as Sevilla have only taken up 7,000 of their allocated 9,000 tickets, while the remaining 400 seats will remain empty to put segregation in place between the two sets of fans.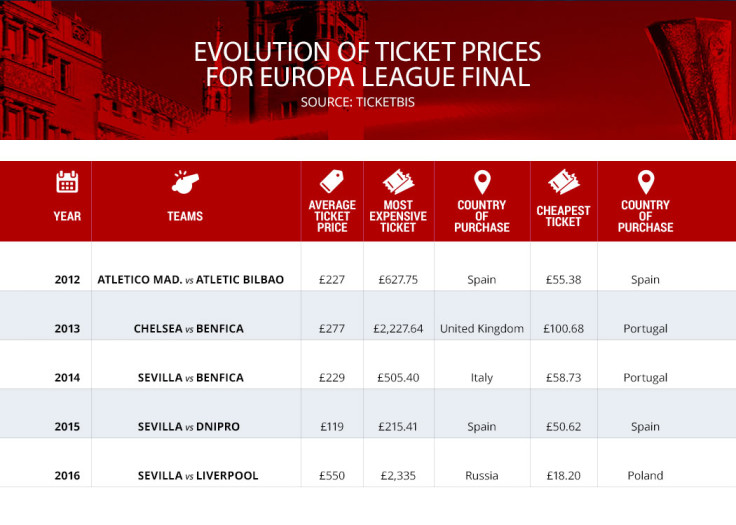 Former Liverpool striker John Aldridge criticised Uefa's decision to hold the final in Basel as "ludicrous and dangerous". "Why is it in Basel? I can't see the logic in it. I don't know whose decision it was, but it can't have been a football person," he wrote in the Liverpool Echo on 9 May.
"They want to make this cup more prestigious and give the carrot of Champions League qualification to the winner, then all of a sudden they decide to put it into a stadium that is not fit to host a final so big.
"It's absolutely ridiculous. Think of all the fantastic arenas in Europe that would qualify to host this sort of game, and they put it in one of the smallest ones."