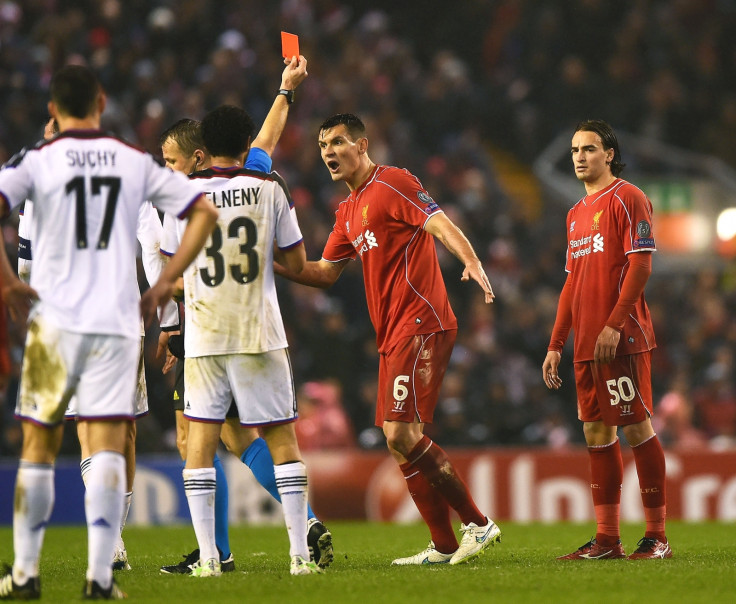 Liverpool winger Lazar Markovic has appeared to question UEFA's decision to hand him a four-match European suspension following his red card in December's Champions League clash against FC Basel.
Markovic, who moved to English football from Benfica for a fee of £20m last summer, was sent off only 15 minutes after being introduced as a substitute during the 1-1 draw at Anfield when his flailing arm appeared to make contact with the face of defender Behrang Safari.
Referee Björn Kuipers' decision to dismiss Markovic for a relatively trivial incident initially drew a rather bemused reaction from Liverpool supporters, and the Serbian international has now used Twitter to suggest he is unhappy that the ban has been extended.
In addition to the three-match suspension that is customary for acts of supposed violent conduct, Markovic has also been banned for an additional fixture owing to a previous dismissal, during last year's Europa League semi-final between Benfica and Juventus.
Liverpool manager Brendan Rodgers, who was unable to guide his team beyond the group stage during his maiden Champions League campaign on Merseyside, was notably irritated by Markovic's sending off and voiced his displeasure with both Safari's theatrics and the officials immediately after the game.
"It was disappointing. The fingernail hardly touches he nose of the defender. The defender is the one who should be looked at. He should be looked at and sent off for that reaction," he said.
"I thought a lot of decisions tonight were disappointing. It's not the Premier League and we understand that. But the decision was certainly very disappointing."
As well as missing both legs of Liverpool's upcoming Europa League last 32 tie with Besiktas, Markovic will also now be banned from the next round of matches should the club progress at the expense of their Turkish opponents.