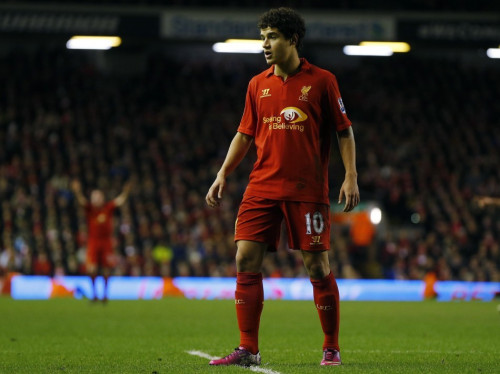 Philippe Coutinho is always looking for ways to improve for Liverpool and hopes his goalscoring can get better over the course of 2014 a year on from joining the club.
Coutinho made the move to Merseyside in the final days of the January transfer window and the 21 year old hasn't looked back, immediately becoming a crowd favourite and an integral part of Brendan Rodgers' attack-minded side.
The playmaker looks back on his first year with Liverpool without any regrets but believes he can continue to develop into a player who will have long-term success with the club, revealing that he is putting extra work particularly on adding his name to the score sheet more often.
"It's a year that went very quickly, and I am living in a very happy moment," he told the Liverpool website.
"What surprised me most was the way the players are made to feel at home, and I am grateful to the city, my teammates and the club for the way I was received."
When asked what he would like to improve, he replied: "My goal scoring, for sure. Sometimes my positioning is not the best and I need to improve that to score more goals."
Coutinho has scored just twice for Liverpool in the 2013-14 campaign but his lack of a goal threat hasn't affected the side, with Luis Suarez and Daniel Sturridge putting in brilliant performances this season to take the Reds into serious contention for a Champions League place.
But Coutinho continues to be hard on himself as he explains it's important to keep working to become a top player at Liverpool along the likes of Steven Gerrard and the club's fearsome strike partnership.
"I want to continue improving and look forward to working harder - and harder on what I need to do to be considered a great player," he explained.
"I think I have improved with my positioning on the pitch because sometimes I play on the wings and other times in the middle.
"I have improved my knowledge a lot more and have worked harder on my finishing."