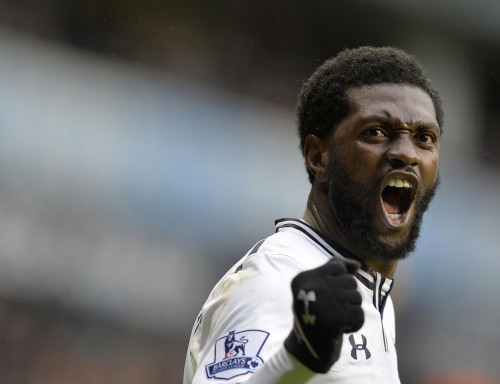 Tottenham Hotspur head coach Tim Sherwood has identified Emmanuel Adebayor and Hugo Lloris as 'crucial' to the club's hopes of qualifying for next season's Champions League.
Former Arsenal and Manchester City striker Adebayor was recalled from exile by Sherwood upon his appointment and he has swiftly repaid his manager's faith, scoring seven goals in 12 games since his return.
The 30-year-old scored a superb winner against Totteham's fellow Champions League hopefuls Everton on Sunday while France international Loris denied the Toffees with an array of fine saves to leave the club within three points of a top four spot.
Speaking on Adebayor, Sherwood told a press conference: "He is in the mood already, he wants to enjoy his football and I'm giving him licence to go on the pitch and express himself.
"He is a great example to the rest of the boys. He has been there and done it. He has done it on a regular basis and is one the players are looking up to. He's been magnificent from the moment I took over, both on the pitch and off the pitch.
"Manu is key for us, absolutely, as it Lloris. He made a great save early on in the game against Everton and that was crucial to giving us a platform to go on and get the win we needed. All our top players will be crucial for us."
Tottenham take on Newcastle United on Wednesday evening but Sherwood will be without Brazilian midfielder Sandro or defender Vlad Chiriches for the visit to St James' Park. However, record signing Erik Lamela is still unavailable after suffering a back strain while recovering from a thigh injury.
The Argentine has endured a miserable first season in English football but Sherwood is optimistic there is light at the end of the tunnel for the former Roma forward.
"It is difficult to adapt to a different country, a different league and a different language but, when you are suffering all these niggles and something more than minor at the moment, it is disappointing for the lad," he added.
"But we signed him for the long term and we are sure that, in the end, he will come good for Tottenham and be a crowd favourite here. We are all big fans of him when we see him in training. It is just difficult to adjust to a different style of play and a different language. I'm sure Erik will pick it up. By the time he is fit, he will be fluent."