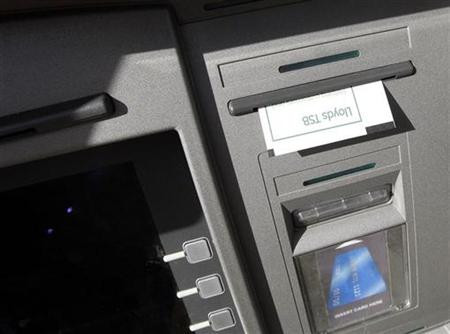 Shares in Lloyds Banking Group fell on the FTSE 100 in morning trading following a report by the Sunday Times that said the group was considering floating 600 of its branches on the stock market.
As the beneficiary of a substantial government bailout during the financial crisis Lloyds Banking Group is required by the European Union to sell off around 600 branches by November 2013, in order to help pay back what it owes the government.
According to the Sunday Times a flotation of the branches would, if successful, result in the creation of a new British bank worth three to four billion pounds. Lloyds has cooled the speculation by saying it intends to sell the branches to a third party rather than float them.
By 11:01 shares in Lloyds Banking Group were down 0.28 per cent to 54.16 per cent.
However other British banks performed better with RBS shares up 1.51 per cent to 43.01 pence per share, Barclays shares rising 2.10 per cent to 298.15 pence per share and HSBC shares increasing 0.60 per cent to 650.65 pence per share.
Overall the FTSE 100 was up 0.70 per cent to 5,199.64.