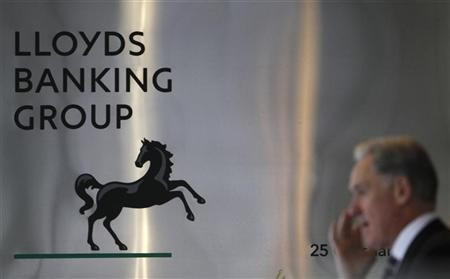 Lloyds Banking Group's plans to return to privatisation by 2014 could be delayed as the bank struggles to offload hundreds of its branches under terms of its state bailout.
In 2008, the UK government pumped £66bn (€78bn, $102bn) into Lloyds and the Royal Bank of Scotland in order to keep them from collapsing.
Lloyds, which is 39% owned by the taxpayer, is being forced to sell 631 branches by 30 November this year under bailout agreement terms, but has so far failed to do so.
According to a report in the Sunday Telegraph, Lloyds is asking European competition authorities to give it an extra two years to dispose of its branches, after a raft of acquisition talks collapsed. It is hoping it has until the end of 2015 to complete the sale of the branches.
In April earlier this year, a branch sale deal with the Co-operative Bank fell through, amid concerns over the each bank's financial position.
Since then, fears over the Co-operative Bank seeking a government bailout have heightened after Moody's slashed the bank's credit rating twice, saying a default on its debt is imminent.
This is despite the group pledging a £1.5bn recapitalisation plan to plug the hole on its balance sheet.
Other taxpayer owned bank, the Royal Bank of Scotland, have also encountered a set of failed branch sales. This includes the demise of a proposed £1.7bn sale of 316 bank branches to Santander.
Only last week, UK Chancellor George Osborne said in his annual Mansion House speech that Lloyds was in a good position to be sold to private investors.
However, Osborne noted that the Government has no "prefixed time scale or method of disposal" for Lloyds, which it rescued in 2009.
Lloyds is still planning to return to privatisation by the end of next year by selling a first tranche of the shares in the business next year. It is also rumoured to be planning to sell the branches, as a separate business, via a share listing on the London Stock Exchange.
Lloyds had not returned IBTimes UK's calls for comment by the time of publication.