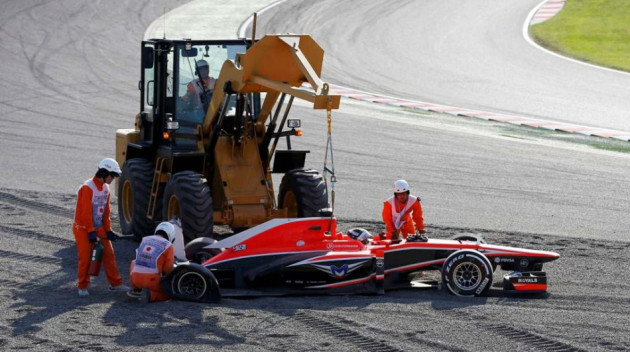 British taxpayer-owned Lloyds Banking Group lent about £10m to Formula One's worst-performing team, Marussia-Cosworth, before exiting its investment.
According to a report by The Telegraph, accounts for Marussia's parent firm, Manor HoldCo, showed that in the year to 31 December the troubled racing team borrowed £33m (€39m, $53m).
Lloyds' private equity arm Lloyds Development Capital (LDC) doled out only a part of this but confirmed it has a residual loan with the team, believed to be around £10m.
Borrowings helped fuel the Anglo-Russian Formula One (F1) team all through 2012, as losses rose to £59m that year, a 27.4% increase over 2011.
Costs accelerated by 8.7% to £76.1m, while revenue inched up 2.9% to £29.4m.
LDC sold its 25.3% stake in the team in April, bought for £10m in 2009, to Marussia, the Russian sports car maker after which the F1 team is named.
Despite the racing team's poor track record, the bank confirmed that the stake sale allowed it "to recoup the full value of its investment in the business".
Marussia logged poor performance outside the F1 championship as well.
The 2012 accounts showed that its team in the GP3 motor racing series, a feeder to the GP2 series, posted a £178,000 net loss that year on a revenue of £1.2m.
Marussia F1's chief executive, Andy Webb, said that the F1 marketplace "continues to exhibit some volatility in terms of sponsorship income which has come under pressure from the condition of the global economy."
Marussia-Cosworth has been trying to raise funds from new investors for over a year now. In the latest filings, Webb says there are still "ongoing discussions with a number of interested parties".
The Banbury-based team has never scored a point since its F1 debut in 2010. In 2012, it finished at the bottom, in 11th place, and occupies the 10th spot at present.