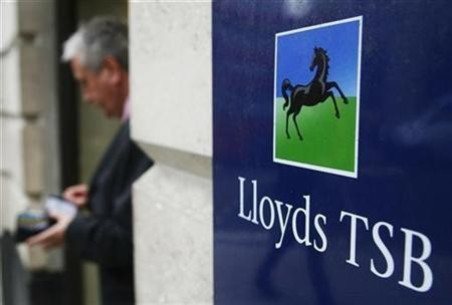 A 'system error' has left millions of Lloyds TSB and Halifax customers with no access to their cash.
Users of Lloyds TSB debit cards, ATMs, and the bank's online banking service complained of difficulties, along with customers at the Halifax.
The error, at Lloyds Banking Group, has led to "intermittent problems", Lloyds TSB said on its Twitter account.
They tweeted: "We're sorry that customers are experiencing problems with some of our services, we're looking into this & will update you as soon as we can."
A number of customers took to Twitter to complain about the service and find out when they might have access to their money again.
@sarahconlon4 said: "Officially worst bank ever my cards declined twice and I can't get money out!!!!!! What is going on!?!?!?"
Responding to the complaints, the bank replied: "Really sorry, we don't have a timescale, but are working to resolve the issue ASAP."
This is not the first time Lloyds TSB has experienced a 'system error' in recent months. In September it emerged that the bank had been incorrectly charging its business customers for routine transactions for three years.
According to thisismoney.co.uk, the bank had been taking 40p every time money was moved between customers' accounts.
A Lloyds spokesman told the website: "'There are some customers who have not been charged certain fees on their accounts, but who have also been incorrectly charged some other fees,' he adds.
"We will refund all fees that have been overcharged and we will, of course, not seek to reclaim any of the fees in cases where we have undercharged."