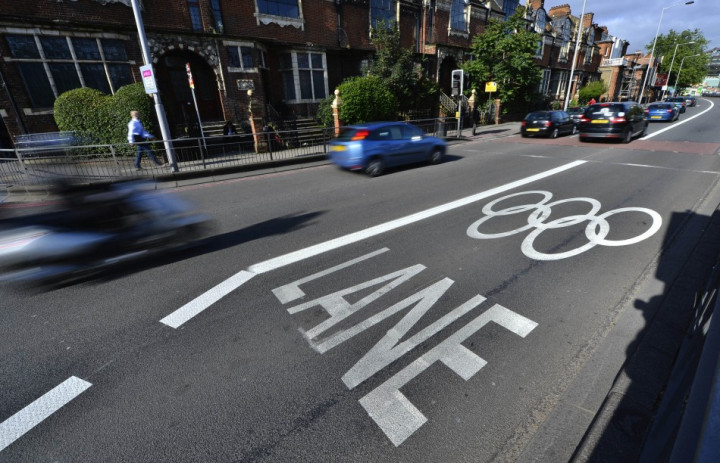 As the nominated torchbearers jog through London's boroughs, their hands firmly clasped on a burning golden stick and sporting a grin stretching from Hillingdon in the west to Havering in the east, they might as well use the fire to set a few small businesses alight along the way.
For spectators the London 2012 Olympic Games promises to be a vibrant and enthralling contest between the world's ultimate athletes but the owners and staff of small firms caught up in the capital can only look on as the event brings disruption and financial damage.
This is most true of companies that rely on London's roads to go about their business.
"It's fair to say that anyone who is reliant upon using London's roads to earn a living is going to suffer a big loss of income," Tom Abbot, company secretary at Elite Chauffeur, told IBTimes UK in an exclusive interview.
"The end result is a massive drop in turnover, a massive drop in profit, a massive drop in our chauffeurs' pay cheques."
Elite Chauffeur offers a luxury service for London for corporate clients, executives and wedding parties. It is based in Newham, the borough in east London playing host to the Olympic Games, and employs four of its own drivers and 30 sub-contractors.
As of 25 July much of London road network has been handed over to London 2012 officials and emergency services only.
The Olympic Lanes, which have been dubbed the "Zil lanes" after the sections of road used by members of the Politburo in the Soviet Union, are one of the most controversial elements of a series of rules imposed by the London Organising Committee of the Olympic and Paralympic Games - Locog.
The Olympic Route Network (ORN) has shunted all other road users aside and into even more crammed lanes.
It is expected to cause serious traffic jams and drivers are being warned by the authorities to stay away from the capital.
Time and again the government and business groups have urged firms not to "miss the opportunity" presented by London 2012.
For some, though, it is not as simple as grabbing an opportunity.
'Massive drop in business'
Abbot's business is all about transport. His drivers have no choice but to use London's roads as they ferry clients around.
"London's traffic is worse than normal thanks to the Olympic lanes and the rephasing of traffic lights," he said.
"People are using other methods of transport or simply not travelling. The end result is a massive drop in business, which we expect last until the games are over.
"Then, hopefully, the lanes will be removed and traffic lights will be rephased to what they were before."
The firm cannot just diversify from its normal business, and as far as Abbot is aware there is no facility for Elite Chauffeurs to claim compensation for lost earnings during London 2012. They just have to lump it.
Year-on-year for July Elite's revenues have plunged by around £11,000 - 10 percent of the company's annual income.
It could be even worse in August.
"While this is not a large amount in the big scheme of things, it is a big drop to a small company like ours," Abbot said.
As far as the long-term impact of London 2012 on Elite Tom says "only time will tell".
£13bn Olympic boost to UK economy doubted
The government has been trumpeting a £13bn figure as the sum economic benefit to the UK from holding the Olympic Games, more than offsetting the £9.3bn cost to taxpayers.
Taxpayers' liability for financing the games has raced away from the original estimate of £2.5bn by almost fourfold.
And a group of MPs responsible for scrutinising the government's handling of the games has predicted that the public will plough as much as £11bn into London 2012.
Despite a promise that business will be boosted through increased consumer activity and tourism from the Olympics, as well as the long-term benefits of redeveloping some of the most rundown parts of the capital, independent analysis has cast serious doubt over the extent of the economic benefit London 2012 will really offer.
Bank of England economists say little impact is likely from the Olympic Games on the economy - possibly providing a 0.2 percent boost to GDP.
Moody's Investor Services, the rating agency, said there will be no long-term benefit and will weaken future business results when compared year-on-year.
London 2012 hurts black cab drivers
Others likely to be badly affected by London 2012's usurping of road space are couriers and delivery firms, as well as removal companies, which are already licking their wounds from a seriously dampened mortgage market in the shadow of a crippling recession.
Even London's iconic black cab drivers, integral and long-time features of the city's transport system, are suffering because of the Olympics.
"I have actually seen one tweet from a driver that said he is going to ask for his mortgage to be delayed by a month," Darren Moss, a black cabbie for 18 years, told IBTimes UK.
"That gives you some idea as to the extent of the impact the ORN is having on taxi drivers at the moment.
"It is pretty serious. It is going to have a detrimental effect on our earnings."
Moss is head of driver relations at GetTaxi, the free taxi-ordering app which runs a Twitter account updated by its fleet of 1,500 drivers, each posting the latest traffic information for customers.
The ORN also presents safety concerns, argues Moss, because taxi drivers are unable to enter the Olympic lanes to pick up and drop off their customers.
"If you have got a customer that is standing at the side of the road, right by a near-side Olympic lane, what's going to happen is the cab driver is going to get to a desolate state with losing quite a bit of money over the next six, seven weeks," he said.
"They are going to stop in the lane that they are in and probably beckon the customer to come over, which obviously is not a great situation to be in."
He believes there should have been better dialogue between Olympics organisers and taxi firms ahead of the games. The parties could have "met half way" by allowing taxi drivers to pick up and drop off jobs in the lanes to minimise health and safety concerns.
"It seems at the moment that they just want to keep us out," Moss said, adding that he put out a message to his drivers asking if they had been contacted at all in consultation while London 2012 was being organised.
"Not one of them came back and said 'yeah, I had a phone call or I had a letter' or anything," he said.
Cabbies have also noticed the impact on their favourite shops and cafes across the city, with some being in areas blocked off by the ORN.
Their trading had been badly affected even before the opening ceremony.
Organisers 'should have worked with London firms'
Elite's Abbot feels the government has underestimated the effect London 2012 will have on small firms in the city.
"It seem as though the negative impact has been ignored," he said. "The powers that be are too busy patting themselves on the back.
"While I am not anti-Olympic, and think that they have done a good job getting everything ready and concede that the Olympic Park is a showpiece, what about the slum conditions that many people in the borough find themselves?
"Will the money for regeneration ever get to them?"
A better link-up between the Olympics and local businesses would have been mutually beneficial, argues Abbot, and could have spared financial worries for firms as well as helping to create a better Games.
Elite is only allowed to drive vehicles nearby the Olympic Park, not to it, because of the organisers' rules.
Not only has this hit the private hire car business, it was an avoidable situation, Abbot feels.
"Imagine you have a wealthy client who wishes to be driven in style to the Olympic Park.
"You take him and then tell him he has to walk half a mile from where you have dropped him to get to the venue. So far our experience has been they are not impressed and decline the booking.
"We as an industry could have been allowed access to the Olympic lanes ... We could also have been allocated a drop off point a lot closer to the stadium."
The firms, whose drivers earn their livelihood by chauffeuring, were well enough equipped and prepared to cope with Olympic organisers needs.
"BMW has supplied countless vehicles driven by volunteers who for the most part don't seem to know where they are going," Abbot said.
"We have a fleet of high end vehicles - including BMWs - properly insured and licensed, all our drivers go through an enhanced CRB check.
"I wonder if anybody looked at the volunteer drivers' backgrounds?
"Whilst I never for one moment thought we would get any reimbursement from the government or Olympic authorities for the loss of turnover and profit, I feel we could have played an active part in promoting the event, our country, and our industry, whereas we have been side-lined and ignored."