British archer Amy Oliver has crashed out of the women's individual archery event at the London 2012 Olympics. Oliver was beaten comprehensively by Indonesian archer Yuliana Ika Rochmawati.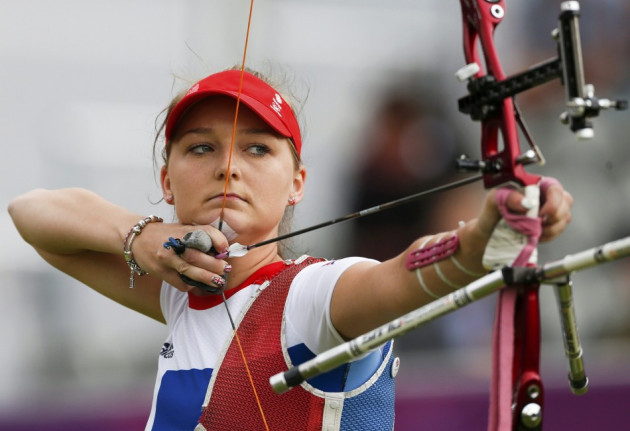 Rochmawati won the first two sets 28-24 and 28-23. Oliver drew the third 28-28 to suggest there was hope for Team GB fans (who have already seen Naomi Folkard and Alison Williamson exit the event, losing to Mexican Mariana Avitia and Mongolian Bishindee Urantungalag on 31 July, respectively). Unfortunately, Oliver was undone by a superb showing in the fourth set and there was no coming back after that. The British archer lost the fourth set 30-28 and the match by seven points to one.
Oliver's exit came as something of a shock, given the home favourite had comprehensively beaten Deepika Kumari, the World No 1, only a few minutes before. Indeed, the win was a surprisingly easy one for the Briton, who won by six points to two. Kumari failed to score a single ten-pointer in the entire match.
The Indian lost the first set 26-27 before fighting back to win the second 26-22; Oliver had a slight lack of concentration in her third arrow of the second set, literally gifting it to her opponent. The British archer made sure there would be no such mistake in the third and fourth sets though, winning both, by scores of 27-26 and 28-26.
In other archery matches, eighth seed Berengere Schuh of France will face one of South Korea's Hyeonju Choi, Italy's Jessica Tomasi, Spain's Iria Grandal or Colombia's Ana Maria Rendon. The South Korean and the Italian will face off at 3.26 pm BST in their Round of 32 elimination, while the other two will shoot at 3.39 pm BST. The winners of those two matches will shoot at 4.05 pm BST.
Finally, the highest remaining seed in the event, South Korea's Bo Bae Ki will shoto against Rand Al-Mashhadani of Iraq at 6.02 pm BST in a Round of 32 match