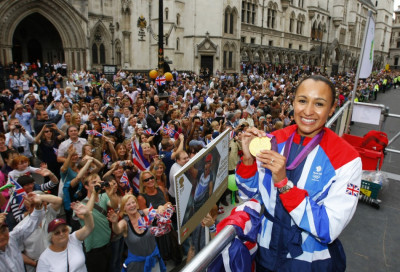 Up to one million people lined the streets of London to salute Britain's Olympic and Paralympic heroes during their open top bus tour of the city.
Eight hundred athletes, including Jessica Ennis, Ellie Simmonds and Tom Daley, have taken part in the parade, which was being held under the banner of 'Our Greatest Team'.
Cyclist Victoria Pendleton, speaking during the parade, told the Telegraph that the reception accorded to Britain's champions "makes me feel proud to be British. We did such a good job of hosting the Games."
Meanwhile Paralympic marathon champion David Weir, who claimed four gold medals during London 2012, expressed the hope that thanks to the Games, "a lot of people respect our abilities and respect that we are truly great athletes".
Distance runner Mo Farah, who took gold in the Olympic 5,000m and 10,000m races, said he could never have imagined such a positive feeling.
Farah, who celebrated becoming a father to twins just days after winning his golds, told the London Evening Standard: "As an athlete you dream of becoming an Olympic champion, but not in front of a home crowd, and also doing it twice."
Mayor Boris Johnson, who tried to weave through the crowd on his bike, said the "cynics were routed", referring to those who questioned the prospects of the Games in the weeks leading up to them.
The parade was accompanied by an aerial fly-past, and a host of musical acts including Amy MacDonald and the Pet Shop Boys.