London mayoral election 2016: Zac Goldsmith commends British Sikhs during visit to Gurudwara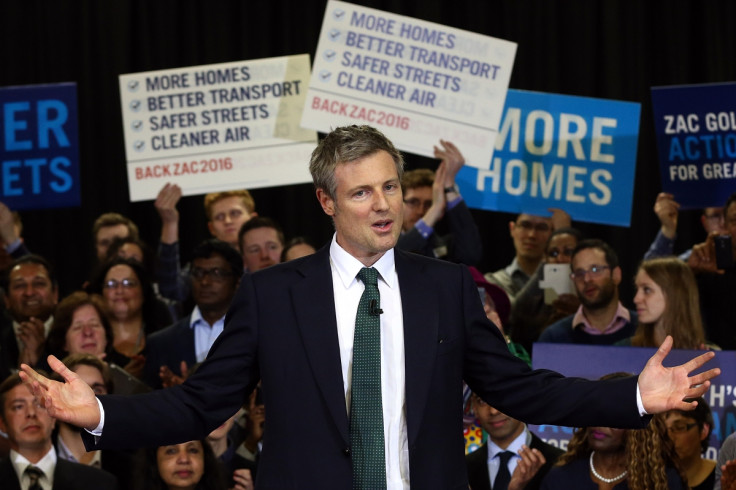 Mayoral candidate Zac Goldsmith has met with Sikh community leaders in London ahead of the upcoming elections. The Conservative candidate visited the Southhall Gurudwara (Sikh temple) to address attendees about his mayoral campaign.
The visit to the Southall Gurudwara took place on 6 March and Goldsmith engaged with Sikh community leaders about what London's next mayor could change for the area. He also took the opportunity to praise London's Sikh population, Get West London reported.
Addressing attendees at the gurudwara, Goldsmith said: "London's 126,000 Sikhs make a huge contribution to our great capital city and I am honoured that you have invited me to join you at this magnificent gurudwara this morning. Your values of hard work, honesty, treating everyone equally and being generous to the less fortunate are values for all of London."
Goldsmith used the opportunity to commend London's diversity and said that different groups getting along with each other was something that the next mayor needs to make a priority. He also mentioned that he has a record for delivering for his constituents and promised to take on the government over issues.
Goldsmith dismissed his opponent, Sadiq Khan, as a mayor who would be "Jeremy Corbyn's man in London", saying that the city could not afford that. He promised to work on "the big issues" such as homes, safe streets and transport in the capital, as well as pledging to clean up the air in places such as Southall.
Sohan Singh Sumra, vice president of the gurudwara, told Get West London: "It was a pleasure to have a candidate come and visit us, all parties are welcome here. He seemed very honest and what he emphasised was how he only makes promises about things he knows he can definitely do."
Goldsmith was offered a tour of the gurudwara and refreshments with Sumra before discussing local issues with the Sikh community. He was also presented a scarf by the gurudwara in appreciation of his visit.
Sumra added: "We didn't ask him what he could do for our Sikh community, but what he can do for Southall as a whole. Sikhs are hard-working and we work with the British community we're involved with to make Southall better."
Britain's Sikh community have been active in UK politics over the years. The Sikh Federation UK has been campaigning actively in regards to the EU referendum, urging Britain to stay in the EU.
Bhai Amrik Singh, chair of the Sikh Federation UK, said: "We are very clear that Britain should remain in the EU and we will be campaigning with others across the political spectrum to ensure we are at the heart of decision making in Europe. This is in our best interests. Whilst the British public are currently divided down the middle on this issue, we are convinced that we can ensure more than 90% of the British Sikh community vote in the referendum to remain in the EU."
© Copyright IBTimes 2023. All rights reserved.