The closing ceremony for the London Olympics 2012 will mark the start of preparations for the Rio de Janeiro Olympics 2016. The Olympic flag will be passed from the mayor of London, Boris Johnson, to his Rio counterpart, Eduardo Paesat. The closing ceremony will also provide viewers with a glimpse of what to expect in four years. The organisers of Rio 2016 have been given an eight-minute slot to present a performance designed to showcase Brazil's "multicultural embrace".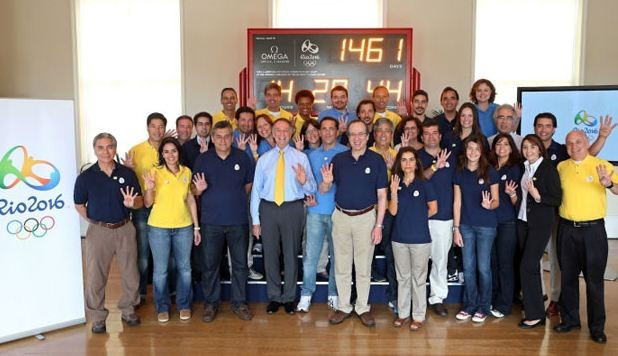 The organising committee for the Rio Olympics 2016 celebrated the start of the countdown to their Games at an event in London, in the presence of the president of the committee, Carlos Arthur Nuzman and Stephan Urquhart, the president of the Olympics' global partner, Omega. Meanwhile, the chief executive of the committee, Leonardo Gryner, promised that infrastructure and facilities for the Games would be completed on time and that pre-Olympic test events would be held in 2015.
"I will say that the games in London have been very inspiring to us," Gryner said, "The high quality of the preparation that London put together to deliver these Games is really inspiring."
Gryner also guaranteed that Rio 2016 would be as much about experiencing the culture of his country as it would about sports.
"That's the beauty of the Olympics, that in every city and every country you experience a different culture," he said. "Beijing was something different from what we saw in London and from what we saw in Athens. In Brazil, as you may know, we like a lot of parties."
The closing ceremony of the London Olympics 2012 - A Symphony of British Music - is expected to feature performances from a dazzling array of stars and musicians, to celebrate 50 years of British popular music. Among those appearing will be The Who, the Spice Girls and British boy band One Direction. The entire event will feature an astonishing 4,100 performers (including 380 schoolchildren).
The tone is likely to be different from that set by director Danny Boyle's spectacular opening ceremony, which featured "Queen Elizabeth II" and James Bond skydiving out of a helicopter.
"To me, this should be the greatest after-party in the world," David Arnold, the closing ceremony's musical director, was quoted as saying by the Telegraph, "If the Opening Ceremony was the wedding, then we're the wedding reception. We're the one where everyone gets out of their cars at the village hall, goes, 'Wasn't that lovely, everyone looked great, let's put on Blame It On the Boogie and have a laugh.'"