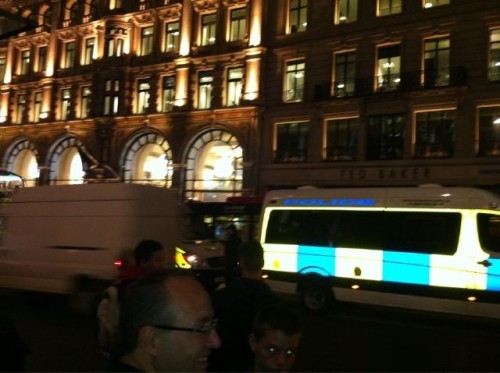 While London rioters burned a 20,000 square meter Sony warehouse to the ground, reports suggest that UK Police granted special attention to the Oxford Circus Apple Store.
The news was first reported by unofficial Mac blog MacRumours. The reports captured an image of multiple Metropolitan Police vans parked outside the Regent Street "flagship" Apple Store. The picture was reportedly taken and posted on Twitter by @Joe, a venture capitalist with m8 Capital in London.
The news comes just as a Sony warehouse in London's Enfield neighborhood was hit by rioters. The attack was part of the ongoing series of riots spreading across the UK.
The riots started over the weekend in London's Tottenham area. While the riots originally started as a protest against the fatal shooting of Mark Duggan by armed police, since spreading they have devolved into mindless looting.
Since its warehouse was burned, speaking to Reuters, Sony representatives have warned that certain UK deliveries would be affected.
"There will likely be some impact on deliveries. ... We cannot determine the cause of the fire or the extent of the damage yet because it's not possible to enter the building," said Yoko Yasukochi, a spokeswoman for Sony in Tokyo.
In addition to the stock loss, the fire also affected Sony share prices. The company's shares dropped by two percent after the news broke.