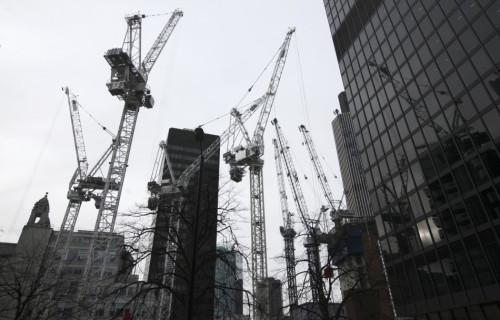 UK construction firms saw their sharpest rise in output since 2007 during January, but a shortage of supplies is threating to hold back the sector's recovery.
Markit's purchasing managers index (PMI) for UK construction hit 64.6 in January, up from 62.1 the previous month. The index is compiled from surveys of purchasing managers working the private sector. Any reading above 50 signifies growth in activity.
Construction's return to output growth has followed the path of the wider UK economic recovery. In 2013, UK GDP grew at its fastest rate since 2007.
"January's survey provides reassurance that the UK construction recovery remains on track," said Tim Moore, senior economist at Markit.
"The latest data show positive developments on a number of fronts, with job creation rebounding at the start of the year while output and new business growth was the fastest since the summer of 2007."
The sector had suffered a sharp fall in output during 2012 because public sector work dried up amid the government's austerity drive. It started growing again in 2013 as the economy picked up.
However there are signs of a materials shortage looming on the horizon. A separate survey by the Royal Institute of Chartered Surveyors (Rics) found that 36% of builders reported work being held up by a shortage in labour and 40% said they were hindered by a lack of supplies.
"The one area which is beginning to be a concern is the ongoing pressure on suppliers to meet the rush in demand," said David Noble, chief executive at the Chartered Institute of Purchasing & Supply (CIPS) which compiles the PMI reports alongside Markit.
"As the industry's lifeblood, suppliers are still recovering from the recession, and until they get back to full capacity, the continued lengthening of delivery times may become a restraining force on the sector in the coming months."