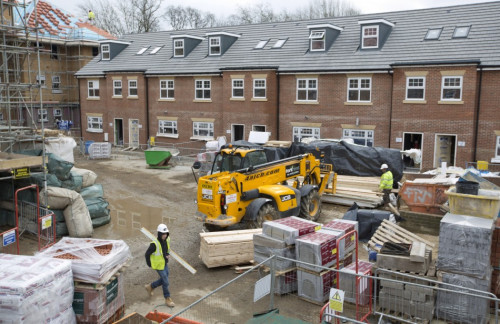 Much-needed housebuilding in the UK is being held back by shortages in labour, skills and materials in the construction sector, according to the Royal Institution of Chartered Surveyors.
As housing demand is fuelled by the controversial mortgage-easing Help to Buy scheme, the country's inadequate supply of homes is put under extra pressure.
It means housing work must pick up sharply if supply is ever to come close to meeting demand, an imbalance official figures show has pushed up house prices by an average of 5.5% across the UK in 2013.
But a Rics survey of surveyors during the final quarter of 2013 showed that although more homes are being built as the economy recovers, 36% said work was being hindered by labour shortages. More are also reporting issues around finding people with the required skills.
And 40% cited scarcity of materials – bricks and concrete blocks in particular – as hindering construction work.
"With the economy having turned a corner in recent months, it would seem that the construction industry has followed suit and activity is up right across the country," said Alan Muse, director of built environment professional groups at Rics.
"More homes are being built, infrastructure is being upgraded and each part of the UK is benefiting from this more positive picture.
"However, with recent estimates stating that over 230,000 new homes need to be built just to keep up with population growth, further initiatives from the government will be necessary to get close to this target."
A report by the National Housing Federation warned that house prices will soar 42% by 2020 because housing supply has not kept up with population growth.
The NHF said 6.9 million children were born in the decade from 2001 to 2011, but just 1.6 million new homes were built during the same period.
Government figures show 117,000 housing starts in the year to October 2013, against estimates of 290,000 needed to keep up with demand.