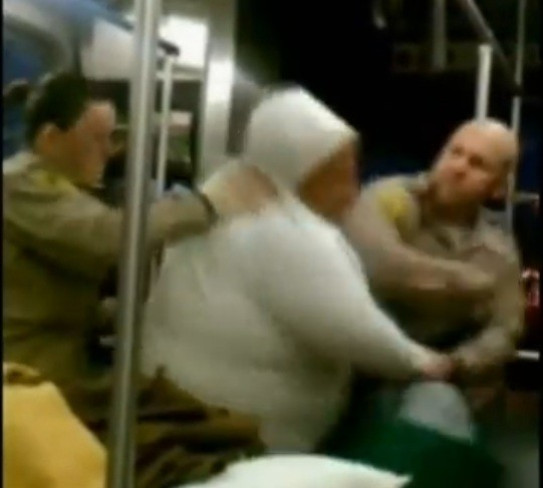 The woman filmed being hit in the face by an LA police officer on a bus has denied reports that she was physically aggressive.
The video showed a male police officer striking Julie Nelson - a homeless woman who is also believed to be handicapped - as she tried to get her off the bus.
The film was recorded by Iraq war veteran Jermaine Green on his mobile phone. He uploaded the video online even after police demanded that he hand his memory card over.
A recording of an emergency call released by LA police has revealed that police were called after a fellow passenger said Nelson had been threatening people as they waited at a bus stop.
"We're waiting for a bus and she's trying to pick a fight. She almost hit an old man," a passenger said in the 911 call. "She was talking about how she got out of prison and 'I'll beat up all you guys'."
Metro bus 911 call (Recorded on Jan. 9, 2012 at 5:17 p.m.) by Tony Barboza
Nelson admitted to being verbally confrontational but denied she was provoking a fight.
"The guy was scaring me the way he was looking at me," Nelson told NBCLA TV. "I didn't touch him though. I know better than to touch people."
Green told NBC-TV Channel 4 that Nelson had been polite to other passengers and only started swearing when the police officers asked her to get off.
Police officers were aware of Nelson, who has four previous convictions for assaulting police officers, according to sheriff's spokesman Steve Whitmore.
"I have never put my hand ever on a deputy. Never," Nelson said.
After the incident, Nelson was placed on a mental observation but not arrested. A friend said Nelson "had some issues in life that have caused her to end up on the streets, and as you can see she has mental issues. She does need meds, but has been off them."