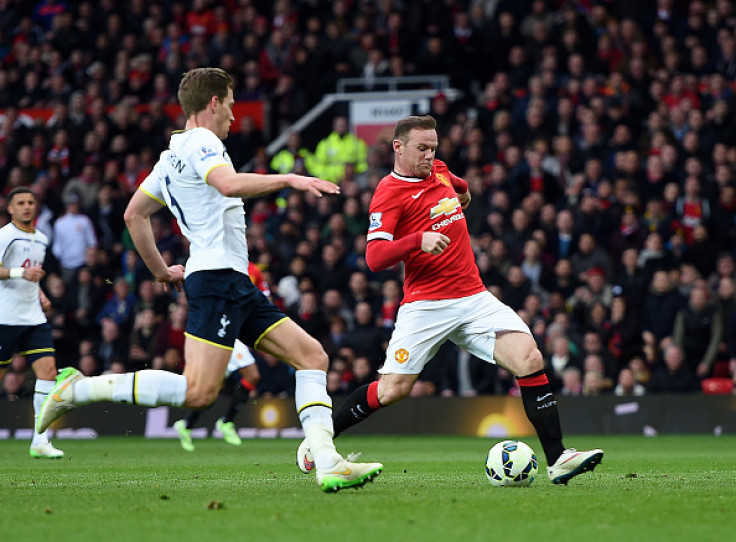 Louis van Gaal has revealed that Wayne Rooney inspired Manchester United players at a meeting before the Tottenham Hotspur clash.
The 20-time English champions sealed a 3-0 victory over the north London club. Goals from Marouane Fellaini, Michael Carrick and the England international in the first half were sufficient for the Red Devils to seal three crucial points at Old Trafford.
The former Netherlands manager was not part of the meeting. However, Van Gaal was delighted with Rooney's impact on United players which helped his side to showcase one of the best displays of this season.
"I was aware but I was not involved. It was the captain who was involved. The players knew that this game was massively important and so I think the captain has to do something to help the players or the manager or the club. I was very pleased," Van Gaal said.
United are in the race to finish the season in the top four as they look to return to the Champions League next season after a year's absence. Fellini also admitted that Rooney's "important speech" had a huge impact on his team-mates.
"I think last night the captain talked to the team about next season for the Champions League. I think it affected the team and I think it was an important speech," Fellaini told the BBC.
Arsenal also notched up a comfortable victory over West Ham United, while Chelsea had to settle for a draw at home to Southampton and Manchester City suffered 1-0 defeat at the hands of Burnley.
United are fourth in the table with 57 points from 29 games, trailing third place Arsenal by a point and City by two points, which are still second in the table. Van Gaal will take his men to Anfield as his side take on Liverpool in the upcoming league clash on March 22.
Former United man Phil Neville believes United need to be brave if they have to walk away with three points from Anfield.
"There are only nine games left and the clock is ticking. United need to keep winning to get in the top four. That means gambling and playing high-risk football, but I think going for it is their best option now," Neville told the BBC.
"They have to go to Anfield next Sunday and win, not just draw. If United beat Liverpool they almost put them to bed - just like with Tottenham, it would almost knock them out of the race for a Champions League place."
"The only way to win at Anfield is to be brave and to attack. That is how United played against Spurs and they got their rewards, and I hope they do the same against Liverpool too," he concluded.